Travertine Installation Services for Palm Beach Gardens Residents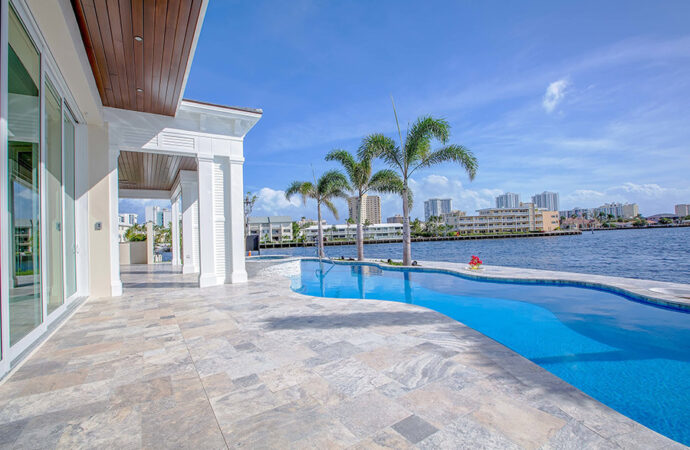 Out of all the options for pool deck resurfacing, going for travertine installation can pay off in terms of quality, durability, and aesthetics. Therefore, you should consider the option for your space so that you can save more time and resources and still get a stunning result. We at SoFlo Pool Decks and Pavers of Palm Beach Gardens are able to offer all support and assistance to ensure that your space is in the best condition once we finish. As a result of our hard work, you will enjoy a surface that won't require many repairs, and maintenance needs to be performed less frequently as well.
Travertine is a common surfacing option, or it has been for the past few years as a material that proves to stand the quality and durability tests. Hence, more pool owners decide to install it, but it needs to be done perfectly. Otherwise, you will experience frequent repairs and some deck elements will start falling apart. Consequently, you spend more money and time, and repeating the resurfacing or going for another installation becomes necessary instead of an alternative whenever you want to approach this.
With our team, you can expect to have the best result thanks to how we provide support and focus on quality products and equipment. We consider the experience and qualified professionals crucial, but working with the right items and having the tools to perform the service are equally important. Therefore, we have it all and the perfect balance so that you can have a space that will look how you want it to.
It is not easy to go over your pool deck's surface and work around the new option you have to bring to restore the deck's durability and longevity and maybe bring a new design. Now, unlike what you may think, the challenge doesn't lie in the selection but rather in finding trustworthy contractors and also because of the uncertainty about what materials to use. You have to consider the quality of the materials and choose the right option for you and around what you can pay since not all expensive options are good, and not all cheap options are a jackpot. You should choose durable, long-lasting materials and take your time around this decision. At SoFlo Pool Decks and Pavers of Palm Beach Gardens, we have learned that a travertine installation is a great option if you're looking for affordability, aesthetics, and durability.
The beautiful look of the travertine can be achieved by having it installed around the entire area of your pool or in other areas you request. This stunning surface can enhance any space regardless of what color you choose. We want you to love the design. To that end, we will plan and design the entire installation, so you are happy before we start.
Durability and long-term performance are important for a surface you love. This is why we work with so many surfacing options, and this is the main detail we will be paying attention to during the project. We will listen to your concerns and make sure you are satisfied with the results.
Travertine can be used in many different ways. You can create unique textures and appearances by using this type of surface, or more like the materials if you have the right professionals like us.
Below you will find information about travertine, its benefits, and how to make an informed decision when considering this surface for your home or commercial property where you have the pool deck installed:
It is not slippery like other surfaces and provides extra support and absorption. You will get a great surface for such a wet area.

Because it is heat resistant, you won't have any concerns about the surface becoming hot.

Travertine is quite durable. You don't have to be worried about how much traffic it can withstand or if it will perform well with additional features.

Its remarkable longevity is what makes it so unique. This is also due to its durability.

It is simple and affordable to maintain the surface. It won't cost a lot to maintain the surface and will last a long time, even if you only worry about minimal maintenance and repairs.
How Our Team Will Get the Installation Done for You
---
SoFlo Pool Decks and Pavers of Palm Beach Gardens contractors are available to assist you during the entire process. We want you to feel confident about your choices and satisfied with the final product. This will save you time and money on repairs or replacements due to poor installation.
For over 20 years, our team has helped pool owners in the region. We have also been installing travertine in residential and commercial properties equally, so you can rest assured we will be there regardless of where your pool is installed. 
Our experts are highly skilled and have years of experience. They are more familiar with the material and resurfacing options than anyone else in the area. This means that you can be certain that you will get exactly what you want.
Pool decks are an important feature. You should be concerned about how you deal with them and who offers the services you need. This is obvious, but many people underestimate how much work it takes and the fact that not all people that call themselves professionals are actually qualified for the job. 
We would be happy to discuss the importance of pool decking with you and what we can do to ensure that your space is safe. It is vital to provide a safe environment for people to swim, children to play, and everyone to feel comfortable in the pool.
Our job is to ensure you get what you want. We can identify and prioritize the issues. Travertine may interest you as a second or primary surface. We are happy to help with any request and accommodate your needs. 
We remind you that travertine cannot withstand freezing temperatures, so do not compromise on this option if your area is subject to cold. This won't be an issue in the city, but we just want to make sure it is clear, so no misunderstandings arise from the entire project we handle for you.
What's the Best About Travertine Installation?
---
Porousness issues can result from a pool located in an area with a lot of dirt. You will need to take extra care of your pool deck, or you could have many problems when using travertine. This is more of a con when considering the surface, but it isn't something that should limit you. Besides, it can be handled with little maintenance once you have your surface installed.
Let's now focus on the question. The best thing about this surface option? Its affordability. A square foot can be purchased for as little as $5 or as much as $34. It is worthwhile to look for the right company to provide high-quality products and professional installation, and it will be well worth the investment due to the durability, longevity, and large variety of designs that can accommodate any style and design you wish to achieve during your project.
We only use the finest materials and tools to ensure lasting results. We care deeply about the material, and the results will be amazing. We guarantee you the lowest prices and the best deals.
For more information on this service, contact us, and we will work with you and provide a customized estimate so you are aware of how much it can cost you in specific and how we can enhance your pool deck's beauty and quality.
Below is our list of additional services: