Spray Deck Services for Palm Beach Gardens Residents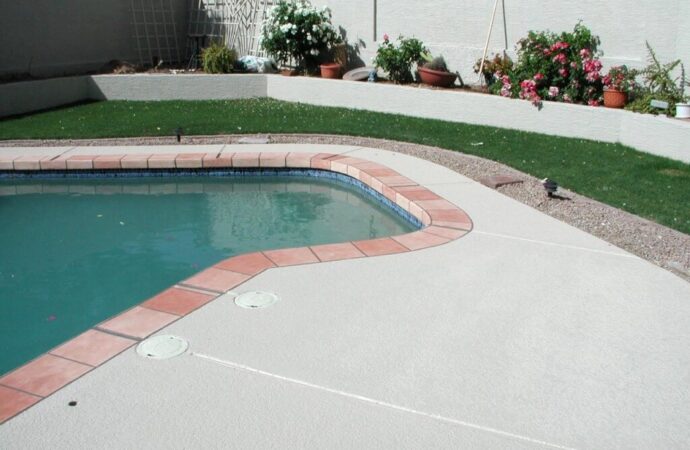 There are many questions surrounding spray decks. First, most people want to know how it is even possible to "spray" a material to achieve a surface and result for the pool. Second, can it be done over other surfaces and materials? And finally, is it even durable and worth the investment? As a company with over 15 years of experience with the service and element involves, we highly recommend spraying your deck at SoFlo Pool Decks and Pavers of Palm Beach Gardens. It is durable, easy to get done, and post services won't be required as often. Additionally, they are not expensive even if you require them.
Before you consider the option, our contractors will make sure to focus on the service and explain it. We want to make sure that you are confident about the surface you are getting with it. Otherwise, working on it wouldn't be a point if you are not happy with what it can offer. Hence, we will review the details so that you understand what materials, processes, and features are involved. By the time it is time to make a decision, you will be well-knowledgeable about how the spray deck works.
Regarding pros and cons, our staff will provide the list once you contact us and ask all questions or want to know more about the service. Unless you have a clear idea, we can even recommend spraying your deck if you come for pool deck resurfacing alone yet don't know what to do or use.
Even if you are new to pools and pool decks, you need to know this: resurfacing will be needed after several years if not a few of the contractors who handled your installation and construction weren't the most qualified ones for it. This is absolute, and it doesn't matter whether you use it for personal use or to serve all guests and clients who visit your commercial property. Pool deck resurfacing is needed to guarantee durability and longevity. This is why you will need to focus on this when the time comes to save time and money. At SoFlo Pool Decks and Pavers of Palm Beach Gardens, we always recommend a spray deck since it can help you save time and money on the type of surface you end up having.
This type of resurfacing combines all the best aspects and benefits you need in one: cost-effectiveness, durability, aesthetics, affordability, and heat resistance. This may not work for everyone due to the simplicity of the design you see online or can see in some examples. As we know, many people are trying to achieve different styles. However, it is an option for those who want durability and affordability and have them as the top priorities in their projects.
We want to let you know that it is also very time-saving. The spray is quick to dry and will still give you great results in less time. It is all about relying on experts like us who will be able to give you clean and unique results for your needs.
You can resurface your deck using the right products and work on the design and proper use of the materials involved in the project. Our team can offer great deals and low prices in most cases, so you get the most out of this investment that shouldn't cost a fortune.
You will be satisfied with the final product if you have professionals who are familiar with it. The product will not become an eyesore for many years, and we are proud to offer the best service as one of the few companies in the area that uses this material.
We are proud to offer this service since we have been in Palm Beach Gardens for over 20 years and have been in the industry for almost the same amount of time. You will be amazed at the results we can bring to your deck and how you will get to enjoy this space all year round.
Many options are available for pool surface surfaces, such as brick pavers and natural stones. These materials can be costly for homeowners who are limited on budgets and can't choose from many options. Commercial property owners may face the same problems.
Spraying your deck with a sprayer is a good option if you have limited funds. It's a great way to save money while still getting beautiful and long-lasting results.
Why Pool Spray Is a Good Option for Everyone
---
There are many ways to resurface a pool deck, depending on the materials you used for it and the current surface. You can spray a textured product on the surface to cover it or apply another one. We will show you how this product can be used to cover existing surfaces. It is very easy and creates a neat design, and having our contractors in place and handling all the processes will guarantee that you don't have to go back to your pool deck for over a decade or close to it.
Spray can be used anywhere concrete is the main material. Other surfaces can also be treated in the same manner and be used as a foundation for the spraying option. However, concrete pool decks are a favorite if the spray is used due to the clear and neat foundation it offers during the application time.
The spray can be customized with a variety of colors and textures. Although it's not the most attractive surfacing option, it is an excellent one. You can achieve amazing results with it, but that all depends on your individual preferences and perspective and what you would like to get from this service.
We are available to answer all questions about this service and the products used for it as well. We can also give you information on how the coating works, so you have a clear idea of the entire process and why it isn't a bad option despite what many would think.
Take the Step & Consider It
---
Finding the right type of surface for your project can always be difficult. You often have too many options, and it is hard to determine which one is better while considering all factors: costs, durability, longevity, and more. 
However, you have it simple when you choose to spray your deck since all you have to do is to choose the color and texture you want us to obtain in the process.
This service and project are all about how to spray the product on flat, smooth surfaces. We will get a specific design as well, which can continue with the regular smooth surface you had or have other finished that includes bubbles and pebbles that are more texturized.
You have many colors to choose from, and we're confident you will find more than one that is up to your standards.
SoFlo Pool Decks and Pavers of Palm Beach Gardens is here to help you and provide only the best products. We provide high-quality services and won't pressure you to spend too much on the final design.
We will introduce you to more ideas or resurfacing options if this is what you want, but we encourage you to give pool spray a try and even allow our team to introduce you to the full idea since you won't regret going for it as we learn that your space is perfect to use it and bring all the benefits: durable, long-lasting, stunning, and top-quality surface for your pool deck and entire space.
Below is our list of additional services: