Pool Heater Installation Services for Palm Beach Gardens Residents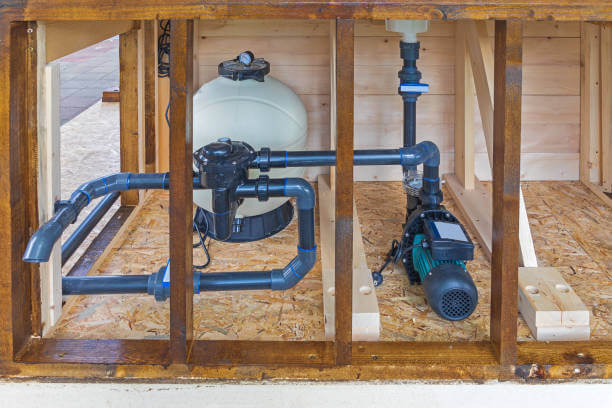 For most people, installing a pool heater isn't the wisest investment considering Florida's weather. With sun and good conditions over 75% of the time, you don't usually consider it a priority. However, commercial pool owners do if they want to use their pools any time of the day, and if you want to do the same, you should too. Pool heater installation can significantly extend the swimming season by maintaining a comfortable water temperature. Hence, it opens options to enjoy the pool at night or even on a bit chill days or cold ones in the area. At SoFlo Pool Decks and Pavers of Palm Beach Gardens, we can help you choose the most suitable heater and work on its entire installation.
Unlike other companies, we are not scared of taking on different projects and working with new services. Instead, we are always excited to expand our services and focus on providing top-quality results. Therefore, you can rely on us to choose the heater or work with the installation, maybe both. As long as you let us know about your needs and preferences first, we can take care of the rest.
Remember that heaters come in multiple options and can perform better in some pools than others. Moreover, you can spend less money on maintaining and using it if you choose the right type for the space, and according to the use, you will give it.
Our contractors will lend you more than a hand and ensure you maximize your investment in the short and long run. Allow us to be there and provide guidance and recommendations before you jump into the installation.
What Type of Pool Heater Should You Install?
---
Before proceeding with a pool heater installation, it's crucial to understand the different types of them in the market. Therefore, take the time to review them below and ask our team for any details and information. Unlike other companies, we will be more than happy to provide a full overview of each type so that you can get the most out of the investment and focus on what would work best for your pool:
Gas heaters: These are powered by natural gas or propane, and they're known for their ability to heat pools quickly and efficiently. However, they can be quite expensive to run when you need to maintain the pool with the best temperature for long periods.

Electric heat pumps: They use electricity to transfer heat from the air or ground to the pool water. Unlike popular belief, they are energy-efficient and can save money on energy bills in the long run. But the first-time investment can involve more than what most people can spend.

Solar heaters: As the name suggests, solar heaters use energy from the sun to heat your pool. They're an eco-friendly option with low operating costs. However, just like electric ones, the initial investment will be significant. As long as you can go for it, the rest of the maintenance will be low-cost and simple.
In case you are unable to determine what's the best heater, we have a tip for you: consider factors such as your budget, desired water temperature, and the size and location of your pool so that you know how much you will spend in the long run. Knowing how you will operate the heater is equally important.
Are We Your Best Option for Pool Heater Installation?
---
At SoFlo Pool Decks and Pavers of Palm Beach Gardens has qualified and experienced professionals to work on your installations. We have been in the industry for over 20 years, which has allowed us to improve the products we use and have a clean result every time with provide the service.
Our team of skilled and experienced contractors has the knowledge and expertise to handle all types of pool heater installations, ensuring that your project is completed to the highest standards.
Working with us brings more benefits than your usual contractors. Having us as the installers comes with all this:
Extensive experience: our team of expert contractors has years of experience in installing them. Hence, each project is neatly done and won't cause any issues in the short and long run.

High-quality materials: we only use the best materials and products so that we can guarantee quality results from the beginning.
Additionally, we care about every detail to provide perfect customer satisfaction and competitive pricing. While offering top-quality services, we strive to provide affordable pricing, making pool heater installations accessible to many homeowners. All this while considering your needs and what you are looking for in the space.
How Do We Install Your Pool Heater?
---
In general, the process doesn't change unless we have to add steps like adding a new outlet or working with some cleaning and extra services. Therefore, you can expect us to handle everything. First, we need to know your space and what your preferences are. This means you need to contact us, and we can schedule a visit from there.
Once we have planned and learned everything, we clear the area by removing all debris and waste around the pool and where the heater will be placed. Then we can consider the placement and how we can work around your preferences for how the heater looks and takes space outdoors.
Above all, we must get the permits to install any heaters and ensure you are worry-free throughout the process. Finally, we prepare the area, add the connections, and place the heater in the right place. Then we test it and ensure it operates well for the next few days before we leave the work area.
As long as you are open for an inspection and free visit, we will be able to give you an estimate in advance so that you know the possible price and how the project will take place in your case. Hence, please contact us anytime and have our contractors work on your pool heater installation.
Below is our list of additional services: