Pool Deck Restoration Services for Palm Beach Gardens Residents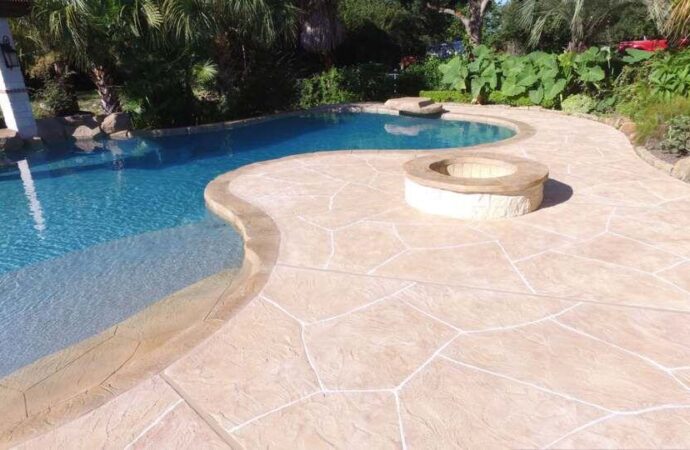 It is possible to renew your pool deck if you review the service with our professionals at SoFlo Pool Decks and Pavers of Palm Beach Gardens. We have been working in the industry for over 20 years, and unlike other contractors, we are not afraid of pool deck restoration. Hence, you can contact us and rely on our team to work around your needs, preferences, and budget. As a result, you won't have to continuously worry about how good the service is or if you will be able to have the perfect space once we are done. Instead, you can rest assured that it will be worth your time and investment.
Working on your pool deck is never a bad option when it has deteriorated or is too old. We know that it may take extra time, effort, and investment, but it will be worth every second and penny when you see the result achieved. As long as you have our qualified professionals helping and providing support, you can have a pool deck that is based on these factors:
Affordability

Longevity

Durability

Aesthetics

Preferences.
In other words, we will focus on considering those factors while designing and planning your pool deck restoration so that you can have balance in the type of project you are tackling. But when should you consider this process? In case you notice obvious wear and tear on the surface, you will be able to tell it is necessary. But if you have some damaged or too old features, the project can be a good option in general.
What Is Pool Deck Restoration & What Does It Entail?
---
Pool deck restoration is a process that involves more than beautifying your space. Unlike what you may think, it is mostly about repairing and restoring your pool deck to its original condition. In case you are aiming for a different design or an even more beautiful option, we can make it happen as well. As long as you let us know your idea ad around what you want to work for your space, we can handle the rest of the process for you.
Now, restoring your pool deck can include regular resurfacing, adding more features, or working with a full change in the design and appeal. Additionally, we can include any repairs, maintenance, or extra services around the pool itself and not the deck alone to guarantee the pool's condition during restoration.
Whenever you think about the reasons that can lead you to repair or provide maintenance to the space, you will have the answer for the restoration being needed. In addition to them, you have to consider that over time, your pool deck may become stained, cracked, or faded, leading to safety hazards and detracting from your pool area's beauty.
Therefore, pool deck restoration involves several steps, including cleaning, repairing, resurfacing, and sealing, to ensure your pool deck is fully restored and functional. Any additional steps can be considered depending on the custom option you are opting for.
How Our Team Handles Your Pool Deck Restoration
---
Unlike other companies, we follow a process that is adapted to requirements and needs. Therefore, don't expect the usual or common project but one that goes according to your needs and preferences. Your budget will be considered too.
In other words, you can expect our contractors to handle your pool deck restoration around the timeline you want, the repairs, or specific needs, and then consider all the elements for the aesthetical aspect. As a result, you will have a pool deck that is you and not just a general design and idea on Pinterest.
That being said, we do have a simple process that is included and changed accordingly:
Cleaning: The first step in the pool deck restoration process is to clean the surface of the deck thoroughly. Hence, we use high-pressure washers and specialized cleaning solutions to remove any accumulated dirt, grime, or stains over time.

Repair: Once the surface is clean, we then repair any cracks, holes, or damage to the surface of the deck.

Resurface: After the repairs are complete, we then resurface the pool deck to restore its smooth and even surface. We offer a range of resurfacing options, including concrete overlays and coatings, to ensure that your pool deck is restored to its original condition. Additionally, you can opt for brick pavers, stamped concrete, and more options.

Coloring: Once the resurfacing is complete, we add color to the pool deck's surface to create a beautiful and unique finish. Unless the material used is already complete, this step will remain.

Sealing: We will seal the surface of the pool deck. Whenever another addition or change is being made, we will take our time in adding it to the whole process.
Our Top Contractors Are Waiting to Restore Your Pool Deck
---
Your pool deck is an essential part of your pool area, and it's important to ensure that it's in top condition for your safety and enjoyment. At SoFlo Pool Decks and Pavers of Palm Beach Gardens, we offer top-notch pool deck restoration services to help restore your pool area's beauty and functionality. Our team of professionals has the skills and expertise to handle any project, no matter how big or small.
Additionally, we use only the highest quality materials and equipment to ensure our work is of the highest standards. Therefore, expect nothing but quality when you decide to rely on our team.
Contact us and let our team take on the projects for you. Feel free to email or call us, or use our contact form to get all the information about our service. As long as you take the first step of reaching out, we can handle the rest so that you are worry-free and ready to take on any idea you have, thanks to our company.
Below is our list of additional services: