Welcome to SoFlo Pool Decks and Pavers of Palm Beach Gardens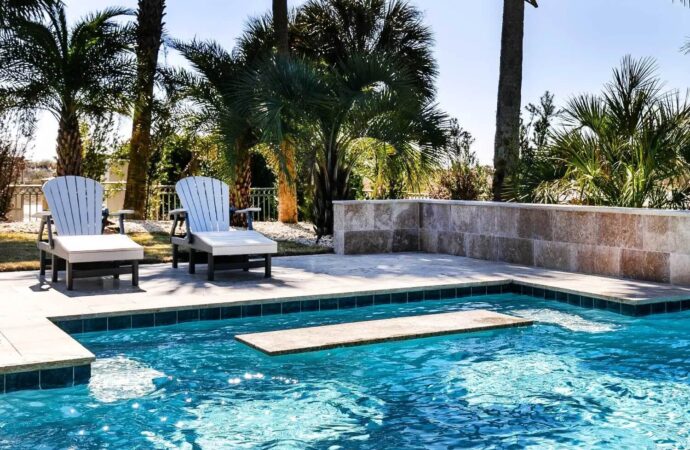 Pool deck resurfacing is a task that not all professionals can perform well. As a result, you need to invest time and effort into how you decide to approach it with proper professionals. Fortunately, the SoFlo Pool Decks and Pavers of Palm Beach Gardens team can support and assist in making the project happen. Therefore, you can contact us and have the entire space resurfaced or access 15+ other services for your pool area.
Unlike other contractors in the area, we are focused on your needs and preferences. Additionally, we include your budget and finances in the list of considerations so that your project goes well and has a balance in how it should be achieved. Hence, you don't have to worry about spending more than you can or not getting the surface you've been looking for. In any event, we will be there to adapt the project and bring it multiple alternatives. Ultimately, you get a suitable option that opens the project for your residential or commercial pool area.
Pool deck resurfacing is what we are known for the most. However, you can contact us for pool remodeling, pool deck repairs, and more. In fact, we work with multiple services that include pool equipment upgrades and specific projects you may have. Unless you already have an idea and are clear about what you need, our contractors can provide advice and recommendations based on your situation and what you need and want for the space.
It can be hard to find professionals to help with your pool area, and any project you can have in mind since the options available are many, but knowing if they can keep up with the standards and your needs is the hard part in all this. It is common knowledge among homeowners and business owners today that many contractors and companies in the area claim to offer the best pool deck resurfacing services. Still, they end up being bets in most cases. SoFlo Pool Decks and Pavers of Palm Beach Gardens is dedicated to providing the best service possible.
We focus on showing you how our contractors are qualified, what their skills are, and how we select and provide them with the best products and materials so that you don't need to worry about durability and quality and that everything begins right in the raw elements used for the best results.
It is not easy to manage pool decks or the entire pool area. If the pool's surface or other elements are susceptible to cracking and quite easy to be damaged, it is not worth having them and will only cost you more money and resources.
While hiring contractors doesn't feel like it guarantees the best results, we can help you get it right and ensure you don't have to be worried anymore about what someone is doing to your deck and pool. There are many choices in your area, so you may not know whom to hire or how you can get the best return on your investment. Our team is here to help you make decisions and learn more about your options, so you don't regret them or spend more resources in the process.
For pool deck resurfacing alone, you will feel overwhelmed with all the options available in the industry and our company alone. Eurotile, tiles, concrete, and brick pavers are options, as well as travertine and the new technology of spraying your deck. However, not all of them are good for everything and everyone. These are the factors that will determine which option you choose in the end:
Your budget—or more like how much you can pay for this project.

Design and style preferences. This includes all the colors and textures you would like to select.

How long it will take to complete the project based on the deadline and a realistic timeframe from our team?

Based on your needs, what your surface can allow, and what you need it to achieve for you.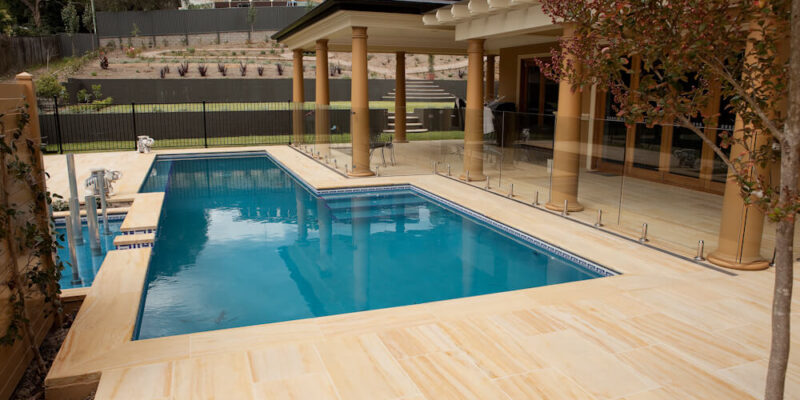 Every surface has its own benefits. It is worth reviewing all surfaces to make sure you know what you need or, more like understanding how they will help you deal with your problems and bring an aesthetically pleasing design you can enjoy. Some homeowners and commercial property owners who have an idea of the type of pool deck they desire will change their minds when they see the benefits of other products and materials in the market or will feel more reassured about the one they had in mind.
We can help you with all of this. Although it might seem expensive, we will always work around your needs and preferences, considering that resurfacing has become one of the most popular services in the industry. This includes your budget and what you can afford to spend on any project for your outdoor living space and property. We are the best company to guarantee that this project goes well and that you get the most out of your investment.
Why Is Resurfacing Unavoidable & Crucial for Your Pool Deck?
You may be wondering why people are so interested in resurfacing even when their pools aren't even that old. Well, there are many reasons why you may need this service in the short and long run.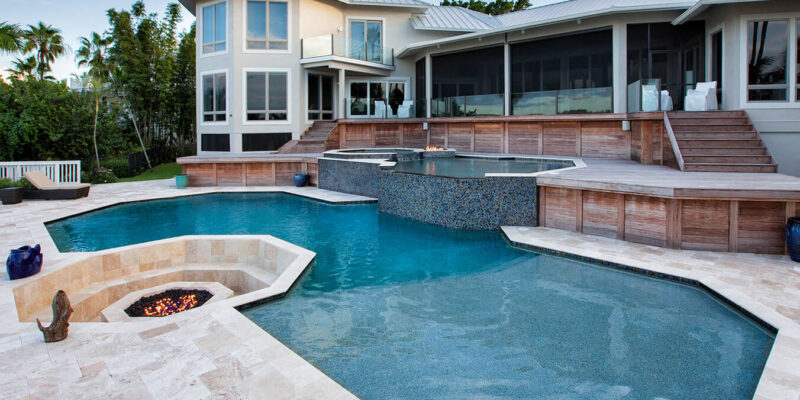 Many people in Palm Beach Gardens focus on it because they want to change the aesthetics and achieve a new style. This can be either during the first few years or later on when they've already enjoyed the current design for a long time. The other reason lies in how it is important to repair some damage, work around some filtrations, and remodel the pool.
The aesthetics are important but secondary to the main purpose of pool deck resurfacing, which is to restore durability and long-term sustainability, so you don't have to invest continuously in the feature.
Pool decks throughout the city, based on our experience and assessments, have been built with inferior materials or by "experts" who weren't qualified for the job. Owners end up spending more money and time to restore the structure so that it can continue to perform well and don't even get the respective ROI or the most out of the investment.
Resurfacing is an option as it can cover all cracks, restore faded areas and create a new surface that lasts longer. The contractor's experience and qualifications will play a major role in the durability and longevity of resurfacing.
SoFlo Pool Decks and Pavers of Palm Beach Gardens has been creating pools and other surfaces for over two decades. Because we are passionate about quality, we know how to get stunning results that last. A well-resurfaced deck will last for more than a decade without needing any repairs or maintenance when our team is in charge.
Your pool deck's durability and long-term longevity will vary depending on the materials and products you use for your new project and the design you want to use as well, since it will often define the amount of maintenance required.  
Eurotile, for example, has a ten-year lifespan but it is not usually recommended where people will be gathered and spend lots of time in it without being careful. Brick pavers and concrete pouring can both hit it and go over eurotile. Still, the first option can imitate several designs and bring durability based on your own needs.
This doesn't mean maintenance and repairs are not important after installing your surface. These are essential to ensure your pool deck will last a long time. They don't require a lot of maintenance, and you won't have to spend thousands making them beautiful again; this is what you care about when choosing the materials and among the options available.
We will guide you through the process and ensure you fully understand the resurfacing process. We want you to be informed about all options available so that you can make informed decisions based on your preferences, budget, and needs.
We want you to decide on the right resurfacing product and material for you. You may be surprised at how many options a single material can give you, and we are here to make new recommendations around what you would appreciate.
We Have Been Offering More Than Just Pool Resurfacing
Our industry experience spans over 20 years. Although resurfacing is the most important service, it's not the only one we offer. More than just being important, it is the most popular yet not the only needed among property owners in Palm Beach Gardens and all over Florida.
We have expanded our services to more locations in Florida thanks to the expertise of qualified professionals. We offer new possibilities and ensure that you have all the information and services needed to maintain the pool deck or your entire area, even if this is only meant for a more aesthetically pleasing result.
Many professionals in the industry are focused on providing you with multiple options for resurfacing. This takes time and effort, and not many get the chance to achieve good results with the amount of attention they have to put into each project. We have the same services and have many more qualified professionals. They will not disappoint you, and we wouldn't offer the service if we weren't experienced and qualified for it.
You can be sure that our team will provide all the support you require. We will help you, no matter if you are merely trying to reach a goal or just need some guidance.
We can provide estimates and quotes for free if we have enough information about your property. If you also allow our team to inspect the property to determine the area and make recommendations.
Most of our services revolve around the options and surfaces available. Below are more solutions and options that can be tailored to your specific needs, so feel free to request them so we can work around your pool and help you with every detail:
Does It Cost Too Much to Have Your Pool Deck Resurfaced?
Every cost and final price varies based on your project and the variables that come with working with pool decks and the entire space. Because each project is unique, the price will differ depending on what you need and your preferences. It is impossible to calculate the cost of a project without taking into account many factors, such as the design you choose, the materials you have available or need for the project, your requirements in terms of durability, longevity, and more.
The final price of a pool deck will be influenced by its size as well. This is because the cost of the material and the surface that are required to resurface the space can often be measured in square feet.
It is crucial that you allow us to access your space so that we can assess it and determine its dimensions. We will also help you select the right materials and styles. We will then provide you with an estimate, which can be either the final cost of the deal or very close to it. All changes are welcomed before we close the deal and even during the project as long as they are reasonable and possible to achieve.
You can rest assured that our team won't cost you a fortune. We care about what your budget is and how we can help you make it work for you. We take the time to explain all options and offer alternatives so that you don't have to spend a lot.
We understand that you might have ideas and would like to choose materials and surfaces such as concrete. However, it is not always affordable. There are other options that can achieve similar or better results. This is why our job begins by allowing you to know every single option available.
You can request a free estimate by contacting our team with information about your pool deck and the amount of space you have and need us to work in. You can give us the dimensions and average size. We will then work with you to provide a free estimate that is not as exact but very close to the final price if this is how you want to do it.
Allow Us to Start Working Today
We understand how difficult it is for pool owners to hire professionals. But with SoFlo Pool Decks and Pavers of Palm Beach Gardens is here, which is why you don't need to worry about quality and prices.
We strive to provide top-quality results that don't require you to spend more money or resources. This has happened to many residential and commercial owners. We want to prevent it from happening again and to every client that reaches out to us.
We are confident in our abilities and qualifications. You can be sure that we know what to do and will not offer more services for more money. We are a business looking to expand our client base, but we won't offer services that we don't know how to handle.
Rely on our team to handle your specific project. If you ask for a general project, such as commercial or residential pool deck resurfacing, you will have experts who can help you determine what needs to be done and how to achieve the final result you want and expect for your space.
If you're certain about the service you require or you have a clear idea of what you want but need guidance, please request it immediately. We will be happy to provide you with all the information and comments you need.
Contact us immediately to ask any questions or clarify any doubts, and our team will be more than happy to help and comply with this process. We are here for you, and all the services we have available are as well.
Allow us to guide you in what you need if you aren't sure, or just have our team via phone, email, or when visiting us, provide the details and information about each one, so you have a clear idea of what we do and how we do it while keeping your best interests in mind.
Below is our list of additional services: