Pool Refinishing Services for Palm Beach Gardens Residents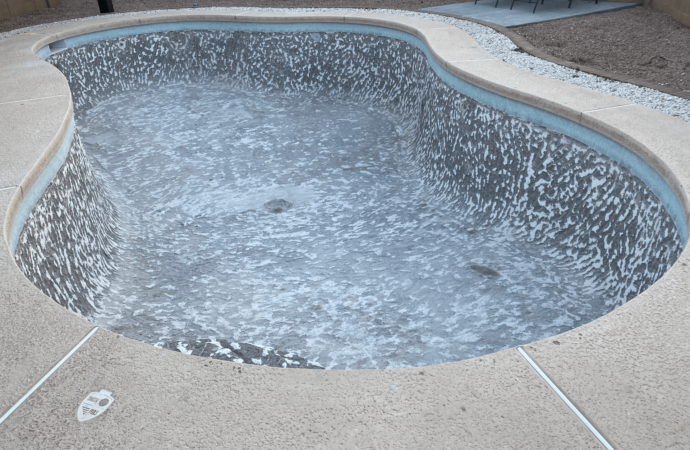 Unlike what most pool owners believe, your pool's surface won't remain in the best condition for decades. Sometimes, it won't even stand the ten years test depending on how much damage and exposure it has to the elements and other factors. As a result, you need to consider extra services and how you can access contractors with experience in pool refinishing. Although this is a service and process most people want to tackle independently, it results in more expenses and problems than solutions. Hence, contact us at SoFlo Pool Decks and Pavers of Palm Beach Gardens.
Pools require maintenance and occasional renovation to remain in top condition. One of the ways to keep your pool looking great and functioning is by refinishing it. In general, you can do this whenever you notice damage, and your surface is in bad condition or want some changes. In other words, you don't have to do it only when it seems necessary. Instead, you could bet on this option for any remodeling or changes.
In case you want to focus on the service and gain access to qualified contractors, our team is always here to deliver the best results. We have worked with pool refinishing for over 20 years, and all residents and businesses we have helped are beyond happy. This is due to our attention to detail and how we work with top-quality materials and equipment to guarantee good results and surfaces that can last with little maintenance.
Above all, we are committed to providing top-notch services in the state. Therefore, rely on us, learn more about us, and refinish below.
Pool Refinishing as A Top Service for Your Pool
---
Over time, swimming pool surfaces tend to deteriorate due to wear and tear caused by the pool's chemicals, water, and weather. Many factors influence their condition, which is why multiple services have been needed over the years. While some people only consider repairs and the regular pool acid wash or cleaning, we know better. As much as we would love to tell you a few services are needed, you will need to invest in the pool every few years to maintain it and ensure it is safe, stunning, and remains long-lasting. Part of them is refinishing the entire pool.
Above all, you want to refinish so that the deterioration doesn't lead to several issues, including the loss of color, staining, cracking, and chipping. These problems affect the aesthetic appeal of your pool and pose significant safety hazards to all users, especially if you own a commercial pool with regular guests and visitors.
How does refinishing your pool help with it? The process will add a new aesthetical appeal based on the type of material used. Still, above all, it will repair and renew the interior surface of a pool, making it look brand new. as a result, functionality, safety, and support will be enhanced, bringing more use and value to the pool and your entire property.
In any event, our team can help you determine how much work this will take and explain the different steps in the refinishing process.
Why Work with Us for Pool Refinishing
---
Our company has been in the industry for over two decades. Therefore, you can expect us to provide quality services and have reliable and qualified contractors for every step. Instead of working with more people that are unable to provide the right service and attention, we can work around your needs and preferences. In fact, we can consider having your budget on the list of priorities so that your project is in the best hands and based on the balance you require to make it happen.  
Additionally, we pride ourselves on working hard to continuously improve the services. But how do we guarantee top results for your refinishing? By working with top-quality materials and ensuring you don't have to worry about how the project is done. Our team comprises experienced professionals who have undergone extensive training to ensure that they deliver exceptional qualifications.
Finally, our professionals work closely with clients to understand their unique needs and preferences so that we are able to ensure that the final product meets their expectations. You won't have to worry about prices or how you have to extend your budget when we should be the ones adapting the process and the entire project to it.
How Does Pool Refinishing Take Place on Your Property?
---
At SoFlo Pool Decks and Pavers of Palm Beach Gardens, we follow a comprehensive pool refinishing process to ensure that your pool is fully restored to its former glory. In case you have doubts about the whole service, we can always start there with an explanation. In any event, you can also ask questions and clear doubts with our team. as for the rest, our process follows this similar structure for every refinishing:
Drain the Pool: we need to drain the pool entirely. This allows our team to access and examine the pool's surface, identify any underlying issues, and carry out necessary repairs.

Surface Preparation: once the pool is drained, we begin the surface preparation process. This involves chipping away damaged surfaces, removing debris or dirt, and cleaning the pool thoroughly.

Apply Bond Coat: after we've repaired any damage, we apply a bonding coat to the pool surface to ensure that the new surface adheres correctly. This is similar to a primer for painting as it ensures more durability and resistance.

Apply Finish: Once the bond coat is applied, we finally start applying the finish. Depending on the chosen material, the drying process can last longer or less.

Fill the Pool: After the finished coat has dried, we fill the pool again. As a result, you will have the option of enjoying your pool in no time.
All it takes to have our team working on your project is a call or email. We can provide full support as long as you take this first step and leave the rest to us. Therefore, don't hesitate to reach out and use our contact form if needed.
Below is our list of additional services: