Eurotile Installation Services for Palm Beach Gardens Residents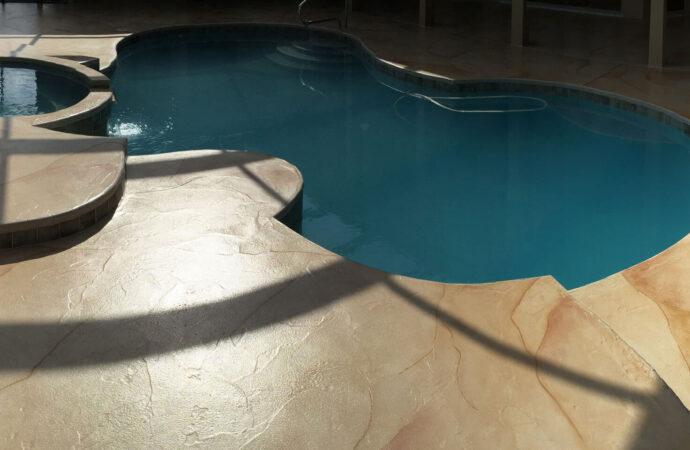 Eurotile is one of those options you can work in whenever you are short on budget or are looking for a new style. As long as you have professionals who understand how to work with it, the result should be beyond expectations. SoFlo Pool Decks and Pavers of Palm Beach Gardens' team can offer you durable and long-lasting resurfacing with this material. As long as you take the first step in contacting us, we will be more than happy to support your needs so that you have a pool deck that lasts and looks beautiful.
While other companies worry about quality based on top-quality materials and elements, we think about your budget too. Therefore, we will do our best to find a balance around how you can afford the project while working on your preferences and vision for the space. In case there is a need to sacrifice one thing for another, we will do our best to bring multiple options so that you can choose the one that suits your needs the most, along with your ideas and preferences. Otherwise, there won't be much to do around what you can do with eurotile, and instead, working with another material would be better.
But why is eurotile even an option for most people? How you can imitate some designs and styles by just having the right contractors. As a company that has been in the industry for over two decades, we guarantee it will be worth it as long as you truly like the designs and options it offers. If not, we can always introduce you to more alternatives.
Whenever you are working with pools or pool decks in specific, you will want to consider all the options available for repairs, remodeling, or maybe resurfacing the deck, as this is one of the most common tasks and projects among residential and commercial property owners. When thinking about surfacing options for the latter type of project, most people consider concrete, brick pavers, and travertine as the best options to achieve a durable result. What if we told you that there are cheaper options that offer all benefits—durability, aesthetics, and longevity—at once? Eurotile is an attractive and affordable surface that can be used for pool decks in all areas; it does not matter if the deck is small or large.
We are happy to show you how it works since we consider it one of the most affordable options in the market for what it offers and the designs you can get from it. You can have a stunning and affordable surface without having to go for the more expensive options. We recommend eurotile at SoFlo Pool Decks and Pavers of Palm Beach Gardens because we love it and how it can be replicated on different surfaces or existing pool decks.
Concrete and natural stones are often favorites since they can give you a stunning and durable surface, which can create a sophisticated and elegant look in the process and bring all the durability you need. You can choose a classic or modern look or experiment with different styles. However, eurotile can achieve the same for less since it is about working around how to use the material, and we know very well how to imitate several designs since we have been working with eurotile for over a decade.
Concrete and brick pavers can be easier to work with when trying to achieve the desired look. But eurotile is an option that will cost less and offer the same results or even better ones. Hence, why wouldn't you give it a chance?
When you're working on pool decks, it is important to consider the pros and cons of each material and find qualified professionals who can assist you. Our team is highly qualified and committed to achieving the best results. We are familiar with eurotile because it has been our primary selection for more than ten years, and although it wasn't part of the main services, in the beginning, we were more than happy to have it in our top 5.
When weighing the pros and cons of eurotile, we often consider its strength and durability. A beautiful, clean surface can last for more than a decade. As long as your surface is properly installed, you won't have to worry about it being dirty as other surfaces.
It is commonly found in areas with multiple spaces for entertainment and enjoyment. These products are durable and beautiful as well as cost-effective. The design and style of the product are also important.
It is essential that you are familiar with eurotile before you use our service. For this, you must know that we will be more than happy to assist you by providing information and details about the material so you can understand why it is starting to be a favorite among residential and commercial property owners equally.
You Want to Consider Eurotile Because of This…
---
We get that you may be anxious about all the options for your pool deck and that we're almost sure that eurotile appeared by chance when you tried to find the best options or just started reading about services and professionals who could help. 
For pool deck resurfacing, the most popular options are concrete, brick pavers, and travertine. However, you won't regret learning about eurotile if you give us a chance to go over all the details and introduce you to it accordingly.
Eurotile is long-lasting and durable, making it suitable for many applications. Eurotile is easier to install than other surfaces and materials. It will also absorb water more effectively and stay dry for longer. This is an important consideration when designing your pool.
The surface has gained a lot in popularity over the past few years. It is made of acrylic and concrete, and it has heat-blocking qualities that are beneficial for both local and state climates. You have many options and designs to choose from, as this is what most homeowners want.
And if you're someone who worries about styles and designs, the best part is that you can get a wide variety of them. Our team can assist you in imitating concrete, brick pavers, natural stones, and more while also guaranteeing durability and longevity thanks to our skilled contractors and their experience with installations.
A list of benefits you should consider when working around it includes:
Strong and durable. Use eurotile, and you won't need to worry about its durability or longevity since the materials used to make it are top in the industry.

It is able to perform in all kinds of weather, especially in the usual hot one in Palm Beach Gardens.

Reduces all the bacteria that accumulate in the deck.

Low maintenance, which means it won't cost you lots of money in the short and long term.
We Are Right Here to Help
---
Our extensive knowledge and experience with this material allow us to reproduce different surfaces and colors. You can even customize the colors to match your outdoor space and pool deck. It is all about letting our team know, and we will bring all the options to the table.
You can choose between a durable or smooth surface as well. It all works thanks to our contractors. Rest assured, we are more than qualified to start working on your pool deck resurfacing project, and we will give you lots of insight into the material, what to do with it, and how you can guarantee its durability and longevity with some care.
We will design and plan before taking the big step with you, so take the time to go over every detail with our team and contractors in charge of your project.
Below is our list of additional services: