Pool Remodeling Services for Palm Beach Gardens Residents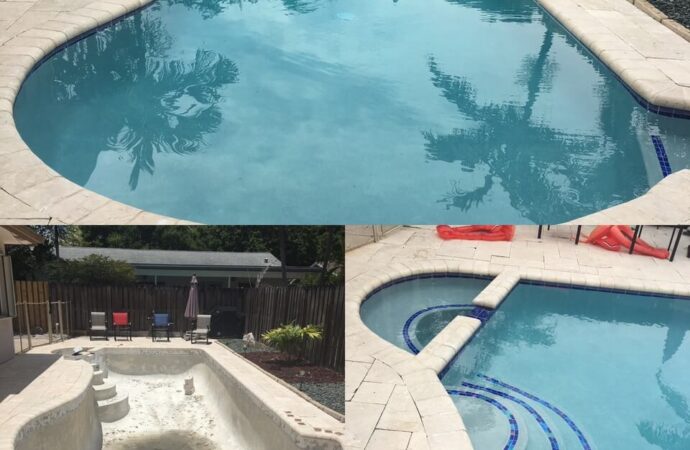 Wishing a new look for your pool is never bad. However, this project comes with lots of steps and investment as it requires time and multiple contractors. At SoFlo Pool Decks and Pavers of Palm Beach Gardens, we want to clarify that large-scale projects aren't the only ones that can enter the pool remodeling service and category. Unlike other contractors, we take on small-scale projects since we are aware that some owners aren't trying to go for massive changes. Instead, they want to opt for some small remodeling that can make the entire space change.
From resurfacing the entire pool deck to changing the finishing and structure of your pool, we are here to take on any project. Therefore, you are welcome to contact us and have our team work on the design, planning, and any post services required. Unless you have a clear idea and budget, we are able to provide some recommendations and advice around the details and information you give us. In other words, we can plan the remodeling from scratch with some inspiration you have or make the design and idea you have become a reality.
Feel free to contact us and have our contractors work on any design. This includes having our assistance for residential or commercial pools equally. In any event, we are here so that the pool looks stunning and is long-lasting regarding features and materials. Therefore, don't be afraid of asking and experimenting with us.
When you consider the amount of work and time it takes, it is always difficult to take the step and say, "I'll finally work on pool remodeling and get the design I want." However, you don't need to worry too much about time, resources, and hard work if you take the time to choose reliable professionals who can help you with the entire project without delay. It is crucial to carefully review the details and to work with your preferences and requirements as well so you have a result that satisfies you in every possible way and makes this pool remodeling project worth every penny and second. Our team at SoFlo Pool Decks and Pavers of Palm Beach Gardens can transform your space and bring a new design to it. We will also deal with any problems that may arise or are present in the current pool area.
Based on your preferences and requirements, we can design a pool that is stunning and durable. This will make your pool beautiful and enjoyable for everyone. 
Our team takes on all of the responsibilities and tasks, which is why you can expect us to handle the following:
If it is a residential or business project, ask permission from the respective entities to perform the service and bring all the materials needed for it within legal hours and respect any regulations. Also, consider your neighbors and notify them of the project in case it may cause them problems—mostly because of the noise.

Planning and designing are done by our team, and we will make sure to take notes of what you want and need for it.

After going over all the details, you can only say "yes" or "no" to any recommendations or final design, so we go over them again until you're happy with what we have for you.

We will help you stick to your budget so that you don't spend more money than you can afford.

Discuss all options for your pool remodel project, including resurfacing, lighting, and more, even if they are small fixtures or details.
No matter your reason for remodeling, we can help. Sometimes contractors are reluctant to take on a project because they believe it should only be accepted when there is damage that cannot be hidden or when there is a need to change something. We know that you do it for aesthetic reasons on many occasions, and we are more than happy to help regardless.
We are responsible for ensuring that every pool remodeling project is completed to your satisfaction. We will make sure that you get the items you need and want so you don't have to go over the entire process again, either.
Remodeling a pool requires many steps. You should take your time and be patient while you go over each detail. You want this project, design, and entire pool to look like you have always wanted, not just like other people want it to look, especially if we are talking about your residential and personal pool.
How to Remodel Your Swimming Pool the Best?
---
Resurfacing a pool deck is a popular option for remodeling, and often the only option people consider when working around an entire remodeling project. This will involve the complete remodel of the deck, which is why it makes sense to focus on this service alone in most cases. However, there's more to it than just resurfacing.
If your pool deck has been damaged, you can also resurface it. Filling cracks and fading areas are possible. If the current finish is not what you want, you can recoat it or put a new one in its place. Hence, resurfacing isn't always about remodeling but is also a necessary service in many cases.
Resurfacing options include concrete, brick pavers, travertine, eurotile, spray deck, and more. Before deciding on which option, you will need to think about the space and your budget. Combining the design elements with a particular look can create a unique result.
Our team will guide you through the process and give you all information about the different resurfacing options and styles. We will then begin the design and planning process. You can view the final result and receive an estimate from our team.
Remodeling a pool can include adding new features or changing existing ones. While coping and surfacing options are important along with the stain options, which is part of what we were referring to when we mentioned that resurfacing isn't everything in this project.
There are many options available for commercial and residential properties and their respective pools. If you want to combine multiple options, this is possible. We will introduce you to some resurfacing options—materials and surfaces—and help you with some other services:
This can make your pool look natural and avoid any worries about the heat or slippery surfaces. This is a great method to prevent accidents and ensure your pool has all the functionality and aesthetics it requires.
This product is the most cost effective and also saves you a lot of time. It will instantly change the look of your pool. It's also faster to obtain than other materials or resurfacing options.
Resurfacing with brick pavers
Clients and visitors love their beautiful designs. You have many options for colors and can choose from many different designs, including elegant, sophisticated, and traditional.
This landscaping and aesthetic service will allow you to have a pool that shines bright at night and allows you to enjoy the space.
We Can Help You with Everything
---
SoFlo Pool Decks and Pavers of Palm Beach Gardens professionals can assist with pool coping or diamond brite as well. First, we will determine the size and shape of your pool. Then we will provide general service and just work around them or your entire remodeling project.
Based on the size and purpose of your pool, we can give you an estimate as well, along with the design we prepare around your requests, needs, and preferences.
Below is our list of additional services: