Cool Deck (Kool Decking) Services for Palm Beach Gardens Residents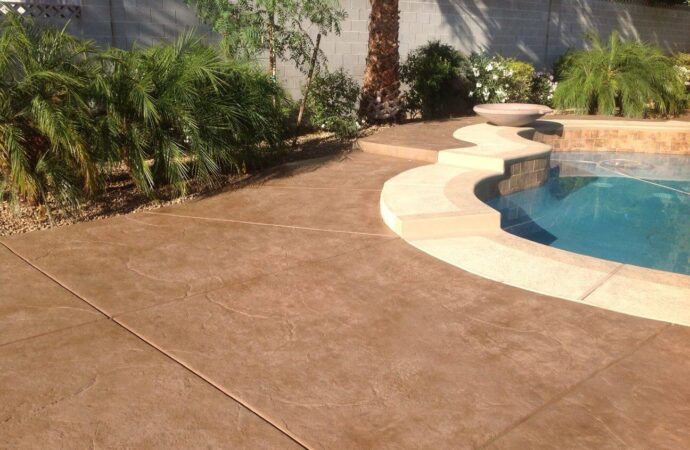 You can get a durable, stunning, and long-lasting material if you choose to go for a cool deck (kool decking) instead of other expensive alternatives. Although every option we offer in our company can guarantee quality, we understand that many factors influence what type of resurfacing you need. Therefore, we recommend considering this cool decking option that can save you time and effort in the short and long run. It isn't as popular as brick pavers or travertine, but it won't disappoint in quality and how it can leave your property looking neat and stunning.
At SoFlo Pool Decks and Pavers of Palm Beach Gardens, our contractors are always open to introducing you to the alternative and explaining every detail. As a result, you can take the time to make a well-informed decision and determine if the surface is the one you would like or not for your pool area. In case it is, we will plan the process and provide all support and attention so that you get a clean result that won't make you regret what you invested in time and resources.
We have been operating in this industry for over 20 years. Hence, you can expect our contractors and experts to be overqualified for the task and guarantee a pool deck that will invite everyone into the place and ensures you don't have continuous repairs and services to perform. As long as you take the first step in contacting us, we will be more than happy to handle the rest of the steps and have a clean result.
Cool deck, or kool decking, is not a popular choice for pool deck resurfacing among homeowners and commercial property owners in Palm Beach Gardens, but not because they don't like it; it is more about not even knowing it exists. Concrete and pavers are the most well-known and are usually chosen when a pool owner needs to work around resurfacing. The problem with them? They can be quite expensive. At SoFlo Pool Decks and Pavers of Palm Beach Gardens, we love working with cool deck because it isn't only a durable option but also quite affordable and meets all your needs: aesthetics, durability, and longevity. Many contractors don't like to work with it; however, we are an exception.
We can not only provide information but also recommend the option and service so you have all the support needed for this and have access to qualified contractors who will handle your project and ensure the best results. You will get the best return on your investment if you are happy with the results, and we promise this will be the case, especially if you are already aware of what kool decking is and are trying to find capable and qualified experts to help you.
Our team has provided this coating for over a decade to residents and business owners. It is safe for swimming pools, and our experts can install it using high-quality materials all the time, which guarantees beautiful and lasting results.
Pool decks of any size can have cool coatings applied. We recommend that you read more about the benefits before making any decisions:
It's cost-effective and easily accessible.

Low price means you get a non-slippery and heat-resistant surface for less than other options—concrete, brick pavers, etc.

You can vary the designs and styles.
We want you to be satisfied with your decision to resurface. Although this may not be your first time working on your surface, it may be the last for a very long time, thanks to what we're capable of delivering.
Before we go into details about kool decking and why it is so popular, we want to let you know that it can be used in many ways. It isn't the best option for pool deck resurfacing in terms of popularity and top options in the industry, but this doesn't make it a bad alternative if you are just trying to get something different and maybe even save more money and time while working on this project.
Why You Should Consider Kool Decking
---
There are many options when it comes to outdoor spaces and pool deck surfaces. Some options may not be suitable for you, while others can be costly, or maybe there are way too many options, and you don't know what to choose. Each option has many pros and cons, and it is often difficult to decide between them.
Pool deck owners want a long-lasting, cost-effective, safe and beautiful affordable solution. This is about completing the checklist and getting all these factors right. It shouldn't be difficult, or so many people think.
There are many variables and factors to take into consideration. We want you to be satisfied with your decision. You have many options to choose from, so it can be hard to pick the right one, which is why we are here for you.
If you're interested in learning more about this option or simply want to get started, we can help you to do it, so you get a good idea of why this cool deck alternative is starting to be preferred by homeowners in particular.
There are two main priorities when choosing a surface for pool decks: one, it should not be slippery, and second, it must be resistant to heat or weather conditions.
Cool decks are a great surface choice for homeowners and business owners. They meet all of their needs, including cost, durability, aesthetics, and resistance. You can install Kool decking, and it will last at least ten years with very little maintenance. 
It's possible to give it a try in terms of its appearance and then make your decision about functionality.
Contrary to popular belief, a pool deck can be used for resurfacing existing decks and other surfaces. It can be used on concrete that has been poured previously or as the main pool surface if it is brand new. It's all about learning how to use it and letting the team know how we can assist you every step of the way.
Cool decking and overlays can be used to create the entire surface. This type of surfacing can be achieved as long as you have competent professionals who will assist you and ensure its durability and quality. We can help you achieve the results you want, so professionals are not required.
SoFlo Pool Decks and Pavers of Palm Beach Gardens can help you achieve a fantastic result. We'll consider your budget and your preferences, and we will always be in your best interest. This will ensure you have a pool deck that will last a lifetime and save you time and money.
It's Not Worth the Money… Is It?
---
The cost of Kool Decking per square foot is between $3 and $6,2, making it one of the cheapest options in the industry, if not the most affordable one among them. It all depends upon the size of your pool deck and the labor required to install it.
Resurfacing can be more expensive due to the cost of cleaning and repairs. If you choose our service, you will see a beautiful result and a long-lasting finish. We will also work within your budget.
We will gladly provide you with a quote on the dimensions of the pool deck as well as any other variables such as colors, styles, and details that you may need. However, rest assured we will worry about how much you can pay and find a solution around your budget for it.
As for the rest, we assure you this will be one of the top options, and you won't regret going for it for your pool deck.
Below is our list of additional services: