Pool Deck Resurfacing for Jupiter Residents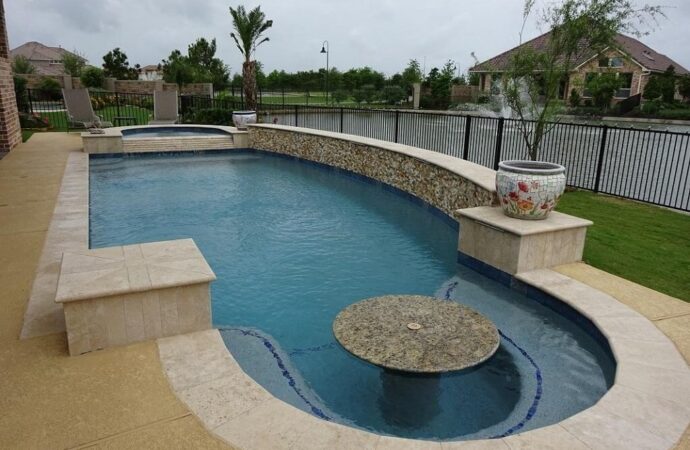 Jupiter is a stunning city with beaches, pools, and properties to admire and enjoy. In case you are an owner and have a pool in your space, we recommend always going for quality services so that it is maintained in good condition and you can work on any additions or projects. At SoFlo Pool Decks and Pavers of Palm Beach Gardens, we can provide full support in pool deck resurfacing, pool deck repairs, and more. Therefore, feel free to count on our team for all the services and needs you have around your pool area. Unlike other contractors, we can offer you good support for residential and commercial pools equally.
Our company has been providing assistance and services in the area for over a decade. As a result, we understand quite well residents' needs based on weather and how pool areas perform under those conditions. In other words, you can rest assured that we know what it takes to work with the elements and include your needs in the entire equation. Thanks to this, we can guarantee a clean and reliable service regardless of the specific one.
With over 16 different solutions, we are confident about how to work on the project and focus on keeping your pool area in a good state and ensuring it is functional and stunning. Call or email us whenever you have a project or require some regular post services, and we will get back to you in no time with all the information.
It is difficult to find reliable pool deck resurfacing contractors in Jupiter that will stick to their promise and show you proof that they are the ones you need for your projects. You need to be careful as this isn't a matter of having too few options but rather having too many that aren't worth the time. Fortunately, our team at SoFlo Pool Decks and Pavers of Palm Beach Gardens is in the area, and it provides the best services and support for all property owners, commercial and residential, equally.
We've been paying more attention to the fact that Jupiter residents have difficulty finding contractors they can trust who will provide good prices and quality services. We decided to expand our services in the city several years ago for this and to ensure you have experts available for different projects: remodeling, repairs, lighting your pool, or just working with the regular resurfacing and handling of your pool deck.
Now, we ensure that everything is clear so that you can get the best out of your investment and, even more importantly, that you don't have to go through the service again due to contractors' fault and how poorly they work in your space.
Our team can deliver outstanding results for any size of the pool area and, especially, your pool deck. Additional services in the city, such as pool lighting, are meant to allow you to have contractors working on this underestimated and neglected feature that is all about functionality and aesthetics. But focusing on quality and safety is also crucial in this process.
We will ensure that you are satisfied with the final results and that, regardless of the service you request, you get all the support you need.
What Do We Offer for Pool Deck Resurfacing?
---
If this is what you need, we can help you choose the right materials for you and a specific type of surface if you don't want to stick to the current one and just reapply another coat. You won't have to spend a lot of money to get the best, so this is what you ought to remember before anything else.
Concrete and brick pavers are the most preferred options for residential homeowners. However, they are not the only choices, especially if you have a limited budget.
Our company offers two options that are quite affordable, durable, and can look stunning thanks to how we work with them and the materials involved: eurotile and spray deck. We have been working with homeowners in particular, and all of them have shown satisfaction with them.
Let us introduce you to these and other elements so that you can make the right choice based on what you need, your preferences, and how much you can spend. If you need help with any other elements, please let us know, and we'll gladly assist.
We offer more than five services beyond resurfacing. You can rely on us to complete any aesthetic project or to restore your entire pool deck to its original condition.
Below is our list of additional services: