Pool Coping Services for Palm Beach Gardens Residents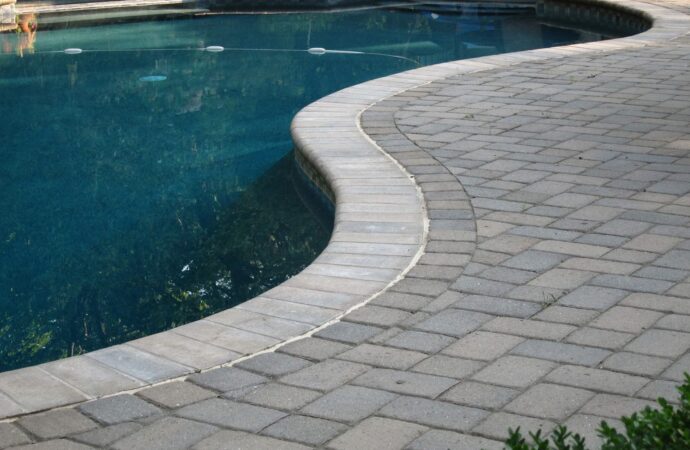 As much as you need to pay attention to surfaces and how your pool is doing, you must look outside the box. Pool coping is one of those parts and elements most people ignore during and after the pool is in place. as a result, mold and moisture are common in the spaces. At SoFlo Pool Decks and Pavers of Palm Beach Gardens, we are able to provide information, details, support, and a full service for this element alone. Therefore, feel free to contact us via phone or email or our contact form to learn how coping needs your attention.
In case you are still considering options or thinking about how to work around this part of the structure, you can start right here. As a professional company that cares about its clients and visitors, we want you to have all the information. Moreover, we provide support around the process of planning the coping and how it can be done within a budget. Unlike other contractors, we worry about every aspect and don't want you to think about how to get materials, how to work on repairs, or deal with the coping overall.
Feel free to rely on us so that none of this is an actual issue for your space. Instead, ask us any questions, and then we will happily organize projects. A free inspection and estimate can be provided before you decide to work with our team. Hence, don't feel pressured or compromised by just calling and scheduling.
When building a pool or working with any of its components and having to perform a new service or project in it, the pool coping is often overlooked, and you will need to keep an eye on this if you are requesting the service or experiencing having your pool built. This area is a specialty of ours, and we can help you to understand its importance of it. Put simply; it will affect your pool's durability and longevity. Our team at SoFlo Pool Decks and Pavers of Palm Beach Gardens will provide you with all the details about coping and what it means for your project. 
To make your pool last, you need to understand the meaning of each space and element. Take the time to read this information and get to know more about us and the service so, by the end of it, you get to request our support to get it done in no time.
Pool coping, which is the only thing that separates the pool shell from surrounding areas and the deck in specific, prevents all water from stagnating in this space between the pool and the deck. Although it is a simple function, it serves a vital role. Sometimes it is considered part of an edge, but that is not the case when you consider what it does for your pool and everything it entails, especially during the installation process.
How you handle the separation and the surrounding area will impact the pool's durability and longevity. Separation should not affect the integrity of the pool's structure, but it can do it quite easily, considering the amount of work it takes to get the water to go to the drains installed. It will last for a longer time and will save you from frequent repairs and maintenance when done right whatsoever.
The water that flows out of the pool as people swim, play or splash in it will be drained to the right areas. This will ensure that the pool does not become contaminated with moisture or cause other problems.
Many people want to know how to maintain a swimming pool. The coping covers the entire area surrounding your pool. Although it doesn't require any maintenance, it is an integral part of the construction process. You should pay special attention to it.
We will help you understand the process and ensure you are fully informed about what your pool requires. We will then explain the process and what we will do when we work with the feature.
Badly maintained or installed edges can lead to water damage and other problems for your pool. Pool coping is a way to ensure that your pool's style and design blend in with the environment. 
Pool coping is a long-lasting investment. It is durable and can be used for many years without the need to be maintained or repaired.
If you have problems with the spaces around your pool and the way you have managed them, pool coping can be a cost-effective option. There are many options, so it is easy to find the perfect design for your home or your entire property.
This Section Must Be Properly Maintained
---
To get back to the original concept and the "problem," pool coping is an essential part of owning and maintaining a swimming pool. It isn't something that should be ignored or not added by accident—although this last part is pretty much impossible. 
It is essential to keep in mind that all pools, regardless of age or condition, require it and will need it. The problem is, is the pool coping of good quality AND properly installed by the contractors who handled the pool construction or even worked on the coping before?
Pool coping can be installed during construction or afterward. The cost of the entire service, your project, and the type of pool coping that you choose will all affect the choice of pool coping.
Contractors might not select the highest quality brands or materials, which can lead to lower costs, especially for clients with tight budgets. It is not a good idea to try and reduce costs by focusing only on other areas and neglecting to deal with coping since this is part of your pool's performance, and you end up spending more sooner than later due to this decision.
Poor installation or poor service can cause your pool to fail. You will need to replace the whole coping. It is as important as the surfaces in the interior walls and tiles if you just learn about its relevance and how it maintains the entire structure.
It is crucial to choose the right type of coping before you begin building your pool. Experts will tell you if your coping is not of the highest quality or is irregular. Look for the best performance, even if they are lower-cost.
This is how we like to work: assess your space, determine the best coping option for it, make the project as affordable as possible, and ensure you get a result that is stunning and long-lasting.
All Options for Pool Coping
---
This pool option is unique because it can be customized with many designs and materials.
There are many popular natural stones that come in a range of colors and textures. You will choose the type of stone that you want to use for your coping. Stones don't always have to be expensive, especially if you ask for them from our company.
Bricks are an excellent choice for homeowners and businesses who want great designs but can have a problem when trying to afford them. There are other options that are less popular but have the potential to work. Concrete is more expensive than Travertine, but tiles and concrete provide the classic look that many homeowners want for their backyards and pools.
Our team will help you choose the right pool coping for you and your budget. We will then plan and design your project to maximize your investment and ensure you have a pool coping that brings benefits and not problems.
Below is our list of additional services: