FREE Pool Deck Resurfacing Quote for Palm Beach Gardens Residents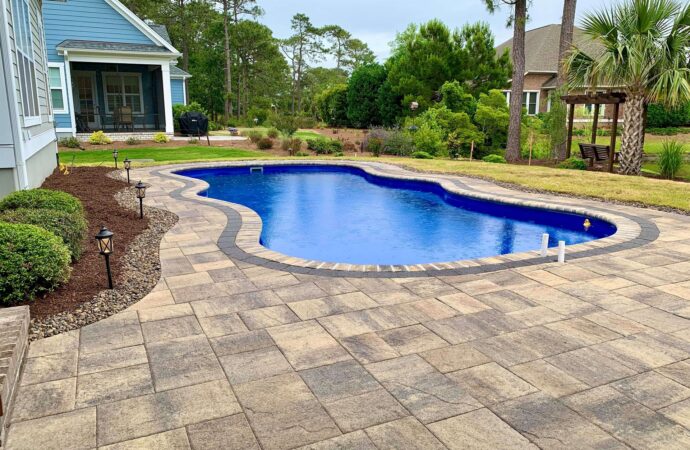 Whenever you have an idea or project for your pool area, you will need to worry about who can provide the service to make it possible. Unlike what you may think, finding reliable professionals that won't disappoint in quality and attention can be difficult. At SoFlo Pool Decks and Pavers of Palm Beach Gardens, we want to guarantee the best support and attention to detail so that your project, be it pool deck resurfacing or other services, is neatly done. As a result of our efforts and how we care about you, you can expect durable, stunning, and long-lasting pool results simultaneously.
Therefore, you can work with us equally on small or large-scale projects and have us plan the entire process for you. Unless you have some special requests and plans, our contractors will handle every step so that you don't have to struggle continuously with how the project should be taken care of. But does this apply to every service we have available? Absolutely.
Our company has been working with pool deck resurfacing, pool remodeling, and 15+ other services in the state. Hence, you can rely on us for any type of project in your pool area, not the feature alone, which will allow you to have proper support and ensure you don't waste your time and resources due to poor judgment and planning. We make every step possible and ensure you don't have to worry about different parts of the project, regardless of its complexity and difficulty.
It can be overwhelming to look through all the contractors and options that claim they can deliver outstanding results and services regarding pool deck resurfacing, pool remodeling, and any solution around this outdoor feature or the entire space in your property. While there will be many good options in the industry, others will be less so and are only trying to get the most out of the entire offer. Some of them will be good, naturally, but can they be reached out to easily even if they are a bit busy? At SoFlo Pool Decks and Pavers of Palm Beach Gardens, we worry about giving you enough access, which is why we want to make it easy for homeowners and business owners to contact us about their pool deck resurfacing and other issues related to their outdoor pool so they can have our full support and outstanding services.
It can be difficult to reach people by phone or email. Many people promise they will respond within 24 hours or less. You will often need to contact them again to get answers to your questions or a quote for your project. Well, we don't do this, and we promise that as soon as you call us, we will pick up the phone and answer all your questions. If you use emails to reach out to our team, we will reply within business hours and not later than 12 hrs, depending on when you contacted us.
Our team makes the whole process simple for you. If you have any questions, you can also call or email us, or you are always welcome to visit us and have more information about our services, which are also available on this website.
We are the professionals you need to reach out to. When you have such supportive contractors, this means that we will give you an estimate on your first call and work hard to provide guidance, not only service, and try to get all money from you, as we know some that work around this without ethics at all.
We will need to have a complete picture of your pool deck and space in order to estimate the cost of materials, labor required, and the time it will take. You have two options: answer all our questions or allow our team to visit your outdoor living area and pool to evaluate them. We will then give you a more precise estimate at the end.
What Can You Ask When You Contact Us?
---
We have the qualifications and services to provide everything you require, so feel free to ask among all our services and solutions listed, so you get the best contractors working on your projects.
You can ask for residential or commercial pool deck restoration. You can also request any other service or let us know your problems so we can solve them.
We are here to help you understand your needs and make the right decisions for you. We are happy to provide a free estimate and will contact you at any time, or you can always contact us to learn more about us as a company and contractors working in the city and nearby areas for over two decades.
Below is our list of additional services: