Pool Repainting Services for Palm Beach Gardens Residents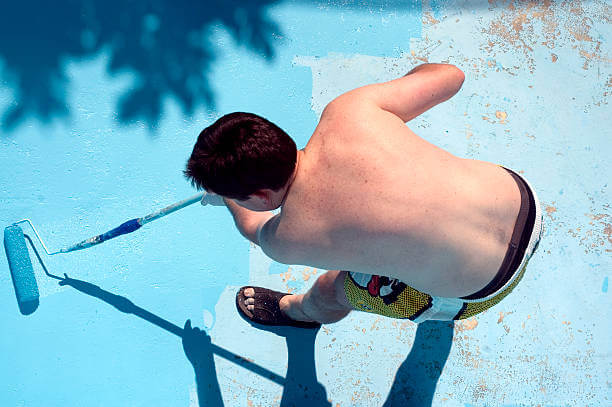 When building a new pool, you want to think about the type of finish you will use since some of them can be recurring expenses. Painting the pool feels like a good option, but it needs to be repainted every 3 to 5 years, depending on the paint's quality. A lot of work goes into this process, leading to additional services and work. At SoFlo Pool Decks and Pavers of Palm Beach Gardens, we can provide all our support and services for pool repainting so that you can have good paint in your space. As a result, you won't have to do it every year or two years but rather repeat the project from every 4 to 6 years.
If you doubt about having the paint, we can tell you it provides an aesthetically pleasing look, but how much it lasts is what worries most people. In other words, you will have to face the issue of how the pool's paint will begin to fade, peel, and chip due to harsh chemicals and sunlight exposure. Additionally, all the damage will cause it to lose its aesthetic appeal.
In case your pool is looking dull and uninviting, it may be time to consider repainting it at this point. However, you can also consider it if you want to change the current colors and design or maybe work around a new type of paint. In any event, we will be here to make it possible and ensure you have a quality result that will cut all your expenses around the project.
Why Repaint Your Pool?
---
A well-maintained swimming pool can last for many years, but the paint will start to wear out and fade over time. Is there a way to prevent this? in general, you cannot prevent the paint from fading away, but you can expect it to last longer when you properly maintain the quality and finish. Hence, it is equally important to choose the right type while also focusing on repainting it when needed.
But overall, repainting is an idea that affects the entire pool's condition for more than the aesthetical part. Not only does it restore the pool's original beauty, but it also provides a protective layer that can prevent further damage caused by sunlight and chemicals. Additionally, a freshly painted pool adds value to your property, which is essential if you sell your home.
Commercial pools, it is a matter of it being more attractive and appealing for guests and visitors. In case you are having problems with them enjoying the space, this can improve their experience greatly. As long as the service is neatly done, you should be able to enjoy all its benefits.
Our company would love to support your needs and ensure you have everything on point. By the time we finish repainting your pool, you will notice a big change in terms of aesthetics and resistance as the days go by.
Are We the Right Team for Pool Repainting?
---
Unlike other companies, we truly want to find a balance in different factors: budget, time, quality, durability, and preferences. Therefore, you can expect us to work around your request and ensure your pool painting is neatly done yet still affordable and durable without sacrificing one benefit for the other. In fact, we will offer multiple options in case you cannot make a decision and support you through the entire process.
Additionally, we work with free inspections and estimates so that you have a good idea of your project. How much will it cost, coupled with all the details of how the repainting will take place. in the end, you get a durable and long-lasting result that will save you time and effort in how you care for your pool.
As a company in the industry, we have years of experience in providing high-quality pool repainting services to all homeowners and commercial pool owners. We have a team of skilled professionals who have undergone extensive training and are equipped with the latest tools and equipment to ensure that we deliver exceptional results.
We take pride in our ability to transform any pool, regardless of its condition, into a beautiful oasis that our clients can enjoy for years to come. Although you may be thinking that painting doesn't offer much, you will realize soon enough that it opens the option for quality and will keep your entire pool in good condition.
Our team works closely with you too. This helps us guarantee that all your requirements are met and won't change anything unless this is what you want as well.
Pool Repainting: Getting the Project Done in Five Steps
---
We keep the process simple and on point so that you can save time and enjoy your pool in only a few days. Therefore, you can expect us to follow these steps regardless of what type of paint is used:
We drain your pool to inspect it and perform any repairs and maintenance. Then, we can work on the other steps.

Our contractors and painters will prepare the surface, including priming, so that the paint can stick properly and get you a neat finish.

We will finally start applying the paint. In case multiple layers are needed, they will be left to dry accordingly.

After the paint has dried, we fill the pool with water, and our team will inspect the pool to ensure it is fully restored to its former glory. In case there are some problems, we will fix them and ensure the paint is done properly again.
How to Access Our Repainting Pool Services
---
A call or email is more than enough. We would love to work with you and ensure you enjoy your feature without problems by focusing on a proper plan and design. On the other hand, we want to allow you to save money and time so you won't have to worry about the next repainting or whether this will be a recurring service.
Use our contact form and rely on us anytime, especially when the season allows for easy and quick painting.
Below is our list of additional services: