Pool Deck Stamped Concrete Services for Palm Beach Gardens Residents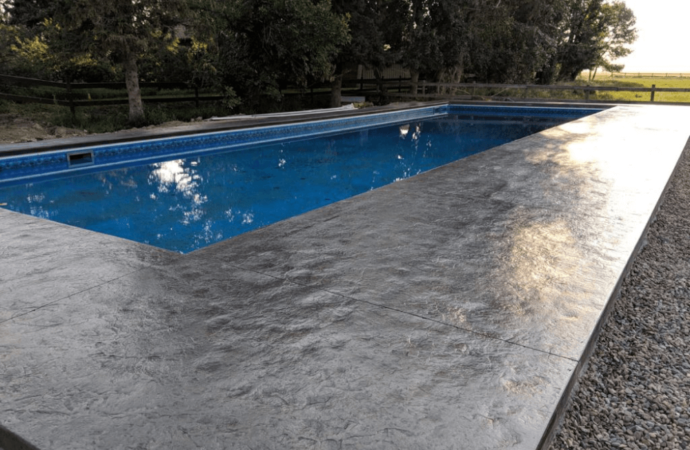 A pool deck is an essential part of any pool, but it can bring more problems and services than you would like. Hence, some owners try to skip services or pay little attention to what can be done or not for the design and surfacing. At SoFlo Pool Decks and Pavers of Palm Beach Gardens, we consider you should prioritize the space and consider options such as pool deck stamped concrete to have durability and aesthetics in place. Doing so will allow you to have a space for relaxation, entertainment, and socializing.
In case you are worried about the concrete's durability and quality, don't be. As long as quality materials and proper installation are done, you can expect it to be a proper option for your space. Our contractors will make sure of it, as we will be able to work with the right equipment and provide you with a clean view of how the deck will look even before we start. Hence, have confidence in the project and consider it for your pool deck alone.
We are aware that stamped concrete isn't a favorite for pool decks. Whenever people think about the project, they want to opt for brick pavers, travertine, or even other tiles. Therefore, concrete options have lost some popularity over the years. 
We consider them to be simple, affordable, and stunning. Unlike other surfaces or materials, repairs are simple, and maintenance is not high when you have to deal with some resurfacing.
Additionally, we offer top-notch pool deck stamped concrete services to help restore your pool area's beauty and functionality. We do this and make it possible by focusing on how we can work on the space and around your needs and preferences.
But What Is Pool Deck Stamped Concrete?
---
Keeping it simple, this is a technique that involves creating patterns and textures on the surface of the concrete to mimic other materials. Although it has its pros and cons, the surface can look like other options, such as brick, stone, or travertine. In case you cannot imitate one of the options but you want to get a stunning result and specific design with the concrete, our team makes it possible.
To clarify, this process involves stamping the surface of the concrete with a pattern and then using different techniques to color and texture the surface, resulting in a beautiful and unique pool deck. However, it cannot always be done, or it isn't the most recommended depending on your space and how the deck is formed.
Unless you are fixed on one type of material or want a surface that goes according to a specific design, we truly recommend stamped concrete because of its durability, low maintenance, and endless design options. Additionally, it is a cost-effective solution that can be customized to suit your preferences and needs, adding value and beauty to your pool area.
Our team can help you achieve a clean and durable result for your space. Hence, you can contact us and feel free to ask any questions about the service. As long as you take this first step, we can handle the rest of the process and guide you.
How Do We Get Your Stamped Concrete Done in the Pool Deck?
---
Ensuring that the process is neatly done will take several steps and effort from our team. Unlike other contractors, we don't want to speed run a project when it is needed to take our time, coupled with how we like to do things right.
Therefore, expect our contractors to follow a process that allows for quality and durability. We keep it simple here and focus on how you can get the most from our team:
Design Consultation: The first step in the pool deck stamped concrete process is to schedule a design consultation with our team. We also want to inspect your pool space and determine how the process needs to get done so that you don't have to repeat it or spend more on your resurfacing.

Surface Preparation: Once the design and planning are finalized, we begin the surface preparation process. Unlike other companies, we want to make sure the entire space is clean and ready to take on the project.

Stamping: Once clean and ready, our contractors start applying and getting the layers done with the base concrete. While we let it dry, we may need to finish it on a second step added in this same process.

Coloring: Then, we add color to the surface of the concrete to create a beautiful and unique finish. The concrete alone won't have its coloring, unlike what many think. Instead, it needs to be done as an additional step to guarantee quality and avoid discoloration. We offer a wide range of colors to choose from, ensuring that the final product meets your expectations.

Sealing: Once the stamping and coloring are complete, we seal the concrete's surface to protect it from all elements and any damage.
Contact Our Team for the Best Services
---
At SoFlo Pool Decks and Pavers of Palm Beach Gardens, we pride ourselves on being the best pool deck stamped concrete contractors in the area. We have a team of experienced professionals who have undergone extensive training and at least five years of experience in the industry. Therefore, you can expect nothing but the best from us.
Our team uses only the highest quality materials and equipment to ensure that our pool deck stamped concrete jobs are completed efficiently and to the highest standards. Additionally, we work with the right equipment and tools to make every detail happen.
Expect full attention and dedication from our team so that your pool deck is in the best condition and fully enjoyable.
In conclusion, we are just the best bet to guarantee a neatly done service, coupled with the utmost attention to detail and support so that you can work around your needs and preferences freely and without any issues.
Below is our list of additional services: