Commercial Pool Deck Resurfacing Services for Palm Beach Gardens Homes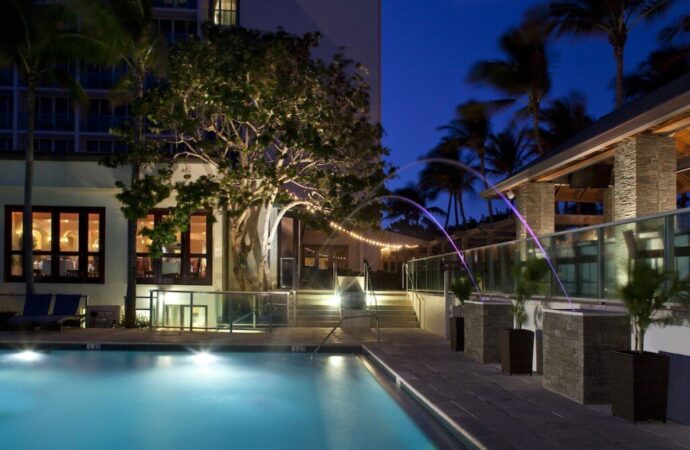 Keeping your pool area in good condition is crucial to attracting more clients or guests. Therefore, working on how the deck looks in your hotel or other properties will be a game changer to success. At SoFlo Pool Decks and Pavers of Palm Beach Gardens, our contractors will deliver and provide all support around commercial pool deck resurfacing. As a result, you can work with multiple designs, changes, renovations, and even repairs in the space, thanks to us and our attention to detail. By the end of the day, you will have a stunning result that will make you want to spend more time in your space.
This resurfacing is often a challenge due to how fast it should get done. Unlike homeowners, commercial owners tend to be more in a hurry for the project to be done. Hence, we understand that you want it done as soon as possible besides quality and amazing results aesthetically. You can count on our team to make this project a reality without sacrificing your entire business, time, and investment. We will be there to plan the whole resurfacing so that the result is guaranteed.
You can place any special request and have us work around your property so that you don't have to worry about your investment and how much your guests and clients will be able to enjoy the space. 
Pool decks are just as crucial as the feature itself. Moreover, they will bring the entire design and space together. Therefore, take the time to make them stunning and durable.
Our SoFlo Pool Decks and Pavers of Palm Beach Gardens team understands that commercial property owners sometimes experience difficulties when trying to find pool contractors who can provide high-quality services and great results at an affordable price. Well, those contractors are quite rare, and even if you get in touch with some that look and feel reliable, they may actually not be prepared for the task, yet they want to make sure they get the business close to scale their operations. In our company, we care about you, which is why we offer commercial pool deck resurfacing as one of our main services so you, as a commercial property owner, can access top-quality services and experienced contractors in pool deck resurfacing and much more.
We are aware that many people who call themselves professionals in the city tend to make pool deck resurfacing more costly than it is actually. You end up spending more money because of their poor results, even when they charged a lot for the project. We have even dealt with many pool decks that were supposed to be installed with specific materials, yet those "professionals" used others in the process of building the pool deck or resurfacing it in previous needs the owners had.
We don't like this type of people. This is why we make sure that you have all the support and services you need to ensure that your commercial pool area is beautiful, durable, and long-lasting. This will allow you to have clients, customers, or guests enjoy it and won't require you to invest in maintenance and repairs as often or more frequently than you should.
Our experience spans over 20 years, and we are confident you will be satisfied with our outstanding results. We are sure to surprise you with what we can do. We are also proud of what we do and how we have trained our contractors to keep up with the standards and have improved our methods and services over the years to offer top-quality solutions to every commercial owner in the region.
Our skilled contractors are able to handle the materials. They have the experience and talent to make the most of them. We are concerned about durability and long-term sustainability. We also care about the pool deck's appearance and don't neglect it; we just think everything has its time in this process.
All commercial properties can have a deck or pool, whether for employees or clients. We will help you regardless of what commercial property or pool you have and ensure you get the most out of this feature that is meant to bring happiness, not annoyance.
We Help You Save Time & Money
We understand that most business owners are concerned about how long their property or pool areas will be closed when they decide to resurface the pool deck. This is why whenever you or someone else asks us how long the project will take, we have to answer with something that is quite vague: it all depends on the size of your deck, the design you choose, and the preparations required before we can start any project and set a deadline for it.
We will assist you in creating the best design possible and the final product, but it is up to all variables in the project when it comes to the timeframe for the project and how realistic your request is within the time you want us to complete it.
It is impossible to determine the cost and time needed for resurfacing without having access to the exact area or all the information for the project. It's all about customizing service and designing. You cannot simply copy and paste another. Your space and needs will be met when you work with us, and we will make sure you understand what this entire project and the service will bring to your place.
What we can tell you is: we can assure you that your pool will be ready in no time.
It takes approximately one week. However, it all depends on how complex and long each element takes. We will make sure that you don't waste your time.
All things are important to us. We respect deadlines because we are professionals. Once we have all the information, however, we will inform you about the length of the project. These details will contain all the required information and how we will approach it.
Your decision, and the timeframe as well, will be influenced by the design and type of resurfacing. It is important to consider the size of your pool deck. If you choose the simpler option, you can finish a surface in a matter of days. You can resurface large areas within two days by using other methods, such as spraying or using specific eurotile designs; this is why we mentioned that lots of details and variables are involved.
We will help you navigate the process and introduce all options along with their pros and cons. This will enable you to make informed decisions, understand why some may take longer than others, and we'll instruct you if there are any restrictions or if you need us to complete within a certain timeframe.
How Much Will This Commercial Service Cost?
Sometimes, resurfacing is cheaper than you might think. It all depends on the type of surface you choose and your requirements. You can think about it in this way: the same variables and conditions apply to the costs and timeframe of the project.
SoFlo Pool Decks and Pavers of Palm Beach Gardens contractors can help with your commercial project. We will help you select the best options and bring an estimate that also fits your budget.
Once we have taken a look at your space and determined how much work it will require, we will be happy to provide you with a quote and a cost estimate. You can also contact us by telephone or email and have our contractors answer a few questions. 
We are happy to assist you in any way we can. It is quicker to see the space in person than to estimate how much you will be paying.
Below is our list of additional services: