Pool Deck Resealing Services for Palm Beach Gardens Residents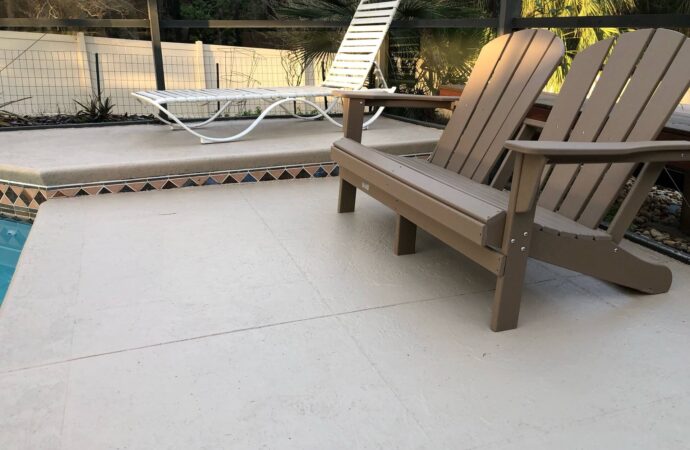 Part of being able to enjoy your pool and the entire area has a beautiful and functional pool deck that can make all the difference. Over time, however, pool decks are exposed to harsh weather conditions and pool chemicals that can cause them to deteriorate. Therefore, repairs, maintenance, and various services will be needed to get the most out of the space for many more years. Among them, pool deck resealing is a solution that will be needed to handle multiple repairs and types of damage in your space so that it isn't slippery or looks ugly.
Additionally, it is a cost-effective and efficient way to keep your pool deck in top condition. SoFlo Pool Decks and Pavers of Palm Beach Gardens can offer you the best attention and support to get your sealing done.
Our company has been working with all types of sealants for the past 20 years. As a result, we know well what it takes to apply them and ensure that the result is perfect so that you have a safe and stunning surface in place. But before you decide to go for the service, knowing what resealing your pool deck involves is key. Hence, our company will take the time to provide information and reviews about how the project takes place and how it helps your pool area in general.
To clarify, pool deck resealing is a mandatory service at some point. What does this mean? Because of durability and longevity, you need to continuously perform quality services that maintain it in good condition. Therefore, resealing it is more maintenance than restoring its beauty or pursuing an aesthetical purpose.
Is Our Company Trained for Pool Deck Resealing Properly
---
Absolutely. Our contractors are well-trained and qualified to take on resealing regardless of your pool deck's size and surface type. Moreover, we have made sure to use top-quality materials and equipment only to guarantee a top result so that you save time and effort in having to repeat the service. In other words, our sealant will last and resist for a long so you won't have to repeat the resealing anytime soon.
Our company is a trusted name in Palm Beach Gardens when it comes to resealing residential and commercial pool decks equally. This means we consider helping homeowners crucial, but commercial owners and their pools are equally important to us. Hence, we will be there for any type of pool deck resealing project you require and have in mind.
In addition to our dedication and attention to detail, we take pride in our commitment to customer satisfaction. We work closely with you so that you understand what is needed and w can consider your unique needs and preferences. As a result, we can ensure that the final product meets your expectations.
For this, we will first focus on how you contact us and request our assistance. Then, we can start working on your needs and preferences for the project when we provide a free inspection and estimate for it.
Unlike other companies, we prioritize customizing the attention so that you can have a price and project in place that go according to your needs. Consequently, you will have a deck that suits your budget and looks as stunning and durable as you can expect it.
How Does Pool Deck Resealing Work? Is It Difficult?
---
In general, resealing your pool deck isn't difficult when you know what materials to use and the right equipment. Additionally, it requires some experience working with the sealant if you want to ensure it will tear up after only a few months or years.
Since we want to make results durable and stunning, we follow a comprehensive pool deck resealing process to ensure that the final surface is neatly done:
Inspection and Preparation.
We need to inspect the pool deck so that we can identify any issues, such as damage, and where the resealing is needed. Then our contractors prepare the surface by cleaning and removing any dirt and focusing on keeping it neat. We use only high-pressure water and eco-friendly cleaning products to ensure the surface is free from dirt and grime.
We carry out necessary repairs to ensure the surface is smooth and even if we identify any cracks or damage during the inspection. Unlike other companies, we can include this in the service and make sure everything is properly done so that the resealing lasts even more.
After the surface is clean and even, we apply the sealer. Our company only uses high-quality sealers that are specifically designed for pool decks. The sealers we use are slip-resistant and offer excellent protection against water damage, UV rays, and pool chemicals. Moreover, we apply the sealer evenly, ensuring that it penetrates the surface to protect it from within and bring more durability and aesthetics.
Once the sealer has dried, we will perform a final inspection to ensure the deck is in perfect condition. We need to know whether the sealer is fixed properly or not. In case it didn't, we apply another coat and proper service.
How to Work with Our Team to Reseal Your Pool Deck
---
It only takes a call or email. Our company is available all year round and while others worry about making it a process, we keep the contacting option simple. You can use our contact form to access our staff and full assistance.
We would love to work on your pool deck resealing and ensure you have the best materials in place, along with properly experienced professionals. As much as we understand some people are limited in budget, it is always possible to keep projects within a limit. In other words, we will do our best so that you can afford the project.
Contact us today for your pool deck resealing, and we will make sure you don't have to worry about the design, planning, and performing the service itself. As long as you contact us first, we can take on the rest.
Below is our list of additional services: