Pool Lighting Installation Services for Palm Beach Gardens Residents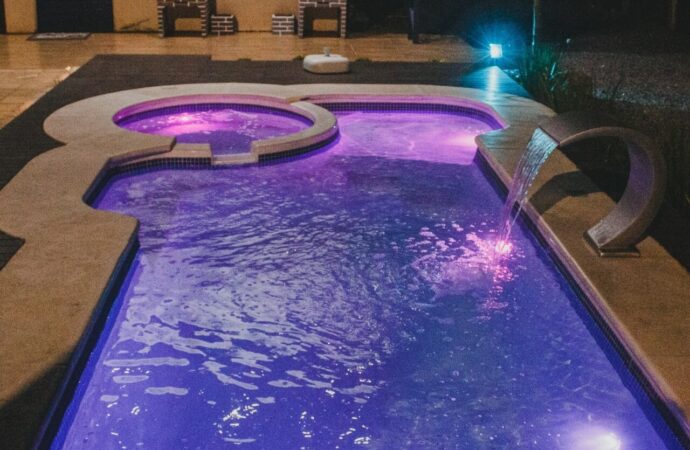 Most pool owners and even contractors think that working on features that add or enhance beauty is superficial and not really relevant. However, we consider it the opposite as many pool features and additions can be the top and key missing in your space. Pool lighting, for instance, is one of those services you shouldn't ignore. At SoFlo Pool Decks and Pavers of Palm Beach Gardens, we want to make sure that your space is safe and visible. Therefore, you can contact us and request our lighting services, which will consider all required factors: budget, beauty, durability, and safety.
Our contractors work with landscaping expectations. In other words, we will consider the entire design and your outdoor look while working on the lighting project. Additionally, we will come up with multiple designs and options you can choose from unless you have a vision and inspiration for the pool area. Therefore, you can work with us and have your pool looking stunning in no time don't worry; we will consider every element and focus on keeping fixtures that will last for years regardless of the amount of use given.
We are here to accommodate your needs and focus on how to make the pool the main character in your space so that everyone can enjoy it while spending time at night or any time of the day. Feel free to contact us and request a free quote and even an inspection. Or, if you want to hire our team right away, a call or email will be more than enough. Our contact form is open all year round too.
Many pool owners in Palm Beach Gardens enjoy working in their pools and are happy to have new features added every so often, so they bring a new ambiance and get to know more about their outdoor living spaces to the point of being able to enjoy their time in it even more and have guests, visitors, or loved ones with them, depending on where the pool was built—residential or commercial property. However, although they are quite focused on all services and needs, pool lighting seems to be something they often miss. At SoFlo Pool Decks and Pavers of Palm Beach Gardens, our goal is to provide all the assistance and service around this feature so you can learn about the beauty of having it in your property and pool for a new vibe and design at night.
We understand how important it can be to finish the landscape and bring beauty and function to your deck or pool. Lighting is often the key for this, and although it feels more like a functional element since you need to have enough lights to see where you are going, you would be surprised by how stunning the pool can look with a nice system installed in the right spaces and areas. 
We do offer other services, such as repairs, surfacing, and regular maintenance. Nevertheless, we are here for everyone, so we constantly expand our services and offer more options for you and your pool deck or space in the city. It doesn't matter whether it is residential or commercial; we will be there making sure you get the most out of your investment and have the chance to bring a new feature that will have everyone happy, especially your guests and clients if this is a commercial space.
To complement your existing spaces, we add lighting to the pool and this landscaping option. You won't see the surroundings if there isn't light. The pool should be the focal point of the area at night so that it can be enjoyed and appreciated by all as well.
The lighting system should enable you to see into the pool and reach similar goals with other features around it. It will also ensure that everyone has a great time using it, no matter what time it is.
You will need to plan the area around the pool in order to have enough light. You can view the pool from your commercial property and make your customers or guests appreciate it. It takes time, so don't try to do it yourself, considering that the specific brand, type, and system must be installed to prevent any accidents and be aware of how to deal with electricity in all this.
If necessary, we will add lighting to the walkway edges as well so you can have a full landscape that complements the pool itself. You will be able to give your outdoor spaces a different style and have a unique result everyone will envy, and you'll adore.
Lighting Must Be Done Carefully
---
Although lighting doesn't seem like a tough or difficult task, it can be a challenge if you want to:
Maximize resources by installing the lights in strategic places to cover as much space as possible with a single light bulb or appliance.

Make sure accidents are prevented when involving electricity and water.

Make the pool look stunning with special colors and a good design so you can notice the difference and bring a new look to the space.

Ensure the entire space is functional and safe.

Avoid having to spend a lot of money on electricity bills for not using proper systems and eco-friendly lights. 
As you can see, it is more than just installing light bulbs around the pool. It is important to choose the right products and materials, place them where they are needed, make sure electricity is not an issue, and ensure that the landscape looks beautiful with the lighting. The opposite effect will occur.
We strongly recommend that you seek professional assistance. This is why we encourage commercial owners and homeowners to trust us with their pool lighting projects. Our team is able to advise you on the best options, choose the best materials, and place fixtures correctly to prevent accidents. You can enjoy a beautiful, accessible area that's both attractive and functional without spending as much money as experts and contractors.
We are committed to making sure that you are happy with the products we offer and the lighting results we provide. We strive to install lights and systems that last for more than a few weeks, so you don't have to worry too much about them being replaced or maintained. You won't even have to worry about electricity bills.
We will assess your pool and recommend the best lighting options for it at night. We will work together to design a space that is perfect for your outdoor space. We will help you select lighting and colors that complement your outdoor space and also save you money.
Replacing or Installing: We Do Both
---
Our team can repair or replace your pool lighting. This is a common option for homeowners in Palm Beach Gardens since we know how much they are looking for both solutions.
They may need to be replaced, or maybe you're trying to work around a new area in your pool. No matter how many times lighting has been done, our experts will design and install an outdoor space that meets your needs.
We are here to assist you in any way that we can. No matter what level of experience you need, how simple the lighting project is, and how it affects your outdoor space and your pool's appearance, we can help. We're here to help you with any questions and ensure that you feel confident about what you get for your pool space and how we will achieve the best result in this process.
Below is our list of additional services: