Pool Plastering Services for Palm Beach Gardens Residents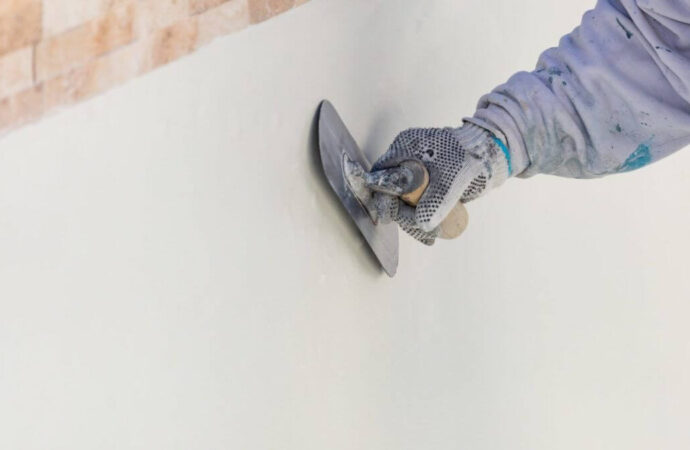 Keeping your swimming pools in good condition takes more service than you think. Unlike what you may think, maintenance, repairs, and some cleaning won't be the only aspects to consider if you want to enjoy your residential or commercial pool all the time. Among the necessary pool maintenance tasks is pool plastering, which is crucial for the longevity and appearance of your pool, whether small or large. At SoFlo Pool Decks and Pavers of Palm Beach Gardens, we specialize in providing the best support as long as you contact us first. As a result, you can have access to qualified experts in the area and ensure your pool is in the best hands.
For fear of spending more than what they can afford, some pool owners don't want to hire professionals. Additionally, it is quite a challenge to find reliable professionals as most of them promise great services and support, but very few deliver it. Consequently, this leads to more expenses and losing faith in what contractors are capable of achieving for you. However, pool plastering is necessary to keep the pool interior in excellent condition. In other words, you shouldn't delay it or try to go for a DIY project.
The plaster coating inside the pool safeguards the underlying structure against damage from chemicals and water. The elements can also damage your pool, and the plaster will prevent it while providing a smooth surface for swimmers. When the coating starts to deteriorate, the surface of the pool becomes rough and uneven, posing a danger to people. Damaged plaster can also cause leaks, leading to significant structural issues.
Unless you want to deal with more repairs and expenses, you want to prioritize the service.
We Handle Our Pool Plastering Process Perfectly
---
You can expect top-quality services and attention from our contractors. We have put a lot of effort into improving our services and working with quality materials so that the result is guaranteed from the very beginning. Whenever you want to tackle plastering so that your pool is in good condition or you want to change part of its looks, we will be here for you.
We are home to a team of skilled professionals with years of experience in pool maintenance and repairs. Hence, we pride ourselves on using only the highest quality materials and equipment to ensure that your pool plastering job is completed efficiently and to the highest standards.
Additionally, we follow a process that helps us guarantee a stress-free and reliable project that won't cause inconveniences in the short and long run. Therefore, feel free to open your doors and have our contractors follow them.
First, we will thoroughly inspect the pool's surface to identify any damage or wear and tear. Then we prepare the pool surface by chipping away any damaged plaster and removing debris or dirt. Second, we apply a bonding agent to the pool walls and floor to ensure better adhesion of the new plaster.
Third, our contractors will apply the plaster in multiple coats, allowing each layer to dry completely before the next application. Once the plaster is dry, we sand the surface to remove any bumps or rough patches. Finally, we add a sealant to the surface to protect the plaster from damage caused by water and chemicals.
To clarify, the process is similar for most projects. However, some variations and different needs should be considered. Therefore, expect us to adapt it to your pool properly and provide a complete service.
Why Is Pool Plastering a Service to Prioritize?
---
As mentioned earlier, regular maintenance is essential to keep your pool in the best condition. As much as people like prioritizing some regular cleaning and other maintenance, plastering will keep the whole structure in the best shape. In other words, you want it if you are trying to have your pool without damage and work on the proper surfacing.
Unlike other companies in the industry, we offer a range of maintenance services to help keep your pool in top shape, which is why you can plaster your pool with us. In general, our contractors will guide you through the process and make sure you understand everything entailing this process, especially when you are not familiar with how it works or the types of plasters available.
There is a lot to learn and consider. Hence, we encourage you to contact us so that you can have a pool that fulfills all those needs:
Safety

Durability

Durability

Aesthetics.
Why Choose Us With So Many Companies with Pool Plastering?
---
At SoFlo Pool Decks and Pavers of Palm Beach Gardens, we pride ourselves on delivering expert pool plastering services to all Florida residents. We believe that our experience, skills, and commitment to customer satisfaction set us apart from other contractors in the area. In other words, whenever you contact us, you will see that our professionals are dedicated to providing exceptional workmanship that meets your unique needs and requirements.
In case you are worried about the service itself and what we can deliver, you will be happy to know that we understand that pool plastering can be a significant investment, which is why we provide transparent pricing. Additionally, we will consider your budget and how we can find the perfect balance between preferences, needs, and how much you can afford for the project.
As long as you take the first step, we can handle the rest. This includes working with you in the planning of the plastering and helping you understand the types available—white, pebbled, aggregated, and more. In addition to our attention to detail, we are committed to perfection. Hence, expect us to strive for the best regardless of who you are, the size of your pool, and all factors and elements we have to consider.
To sum up, we are here to be the full support you need, even when it may just be answering your questions and clearing doubts about how much pool plastering is needed.
Below is our list of additional services: