Pool Deck Resurfacing for Tequesta Residents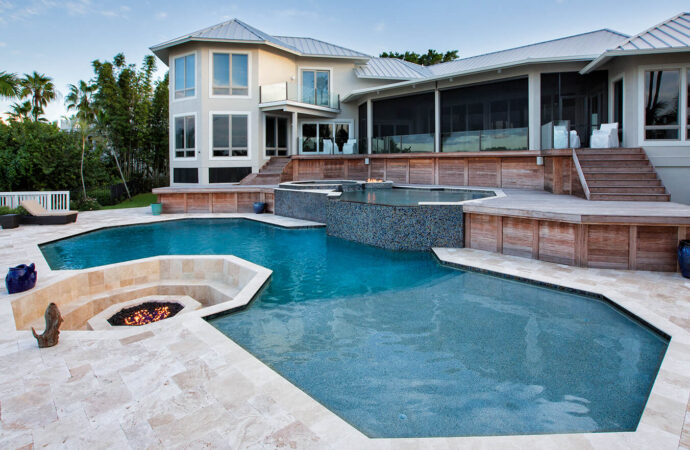 Do you own a pool on your property at Tequesta? Then, you will need access to qualified professionals for all pool services, including pool deck repairs, pool acid wash, and more. However, this can be more difficult due to how many companies are around, and very few of them are able to provide top services. We are the exception at SoFlo Pool Decks and Pavers of Palm Beach Gardens. Our company has been working in the pool industry for over two decades, which means you can expect top-quality services that are planned and delivered fully thinking about you and what you need.
Unless you come with a very specific request and don't want any changes, our contractors will openly and actively deliver advice and recommendations. In addition to our support in this way, we consider all factors based on budget, needs, preferences, the pool area's condition, and how you want to manage the service. This applies to any of the services we offer and regardless of the main goal. Moreover, we will worry about how to make it even better, no matter the budget.
We care about you and how we can deliver top-quality services so that you don't have to repeat them or worry about durability and longevity. Therefore, feel free to rely on our team for pool acid wash, pool heater installation, and much more. We are confident you will be able to find a good solution among the 15+ services available in the company.
SoFlo Pool Decks and Pavers of Palm Beach Gardens is concerned about the accessibility of pool deck resurfacing services for homeowners and commercial property owners in Tequesta. We know that there are many companies in the area. Still, most of them are unable to prove their credibility and deliver the services every property owner deserves and pays for. The common problems with those "professionals" include:
They may offer all services, but they are unable to deliver good results to you, the client.

These can be very expensive and out of reach for most homeowners or even commercial owners as those contractors aim for fewer projects but more money, thanks to them.

They may not offer all the options for resurfacing in terms of materials and surface choices, and they don't even know how to work properly with the common ones.

They do not provide complete support. This should include guidance and information about the best options for your pool deck and how you can have the design you wish for.
It could be any of them, but in many cases, it is all four at once. 
Our team is always worried about pool owners falling into the hands of those people in Tequesta as it will make it worse for them once they notice how much money they spent, yet their pools and decks are not durable but rather crack after a few months or years.
Contractors worry about the aesthetic aspect of the pool deck and the service that they offer because this is what clients are most concerned about, so it may look stunning in the beginning, but is it durable and long-lasting? 
All three are important aspects are important: aesthetics, durability, and longevity. However, the last two are always at the top and the first right at the bottom, as there's always time to work around it when the other two are guaranteed. 
We worry about each of them, and once we have guaranteed a durable and amazing pool that will last for over a decade or so, we will focus on everything about the appearance of the pool deck surface or the aesthetical part of the project we are handling for you.
We want you to be happy and satisfied in all possible ways. It is our job as professionals to make this project a success for you and the professionals you have chosen to trust.
We Do More Than Pool Deck Resurfacing
---
While this is our primary service, we can help with more than just your pool deck and surfaces.
We have worked in repairs, remodeling, lighting, and just providing general support for pool owners so they can work around projects for whatever they need and want to achieve. This includes new designs and aesthetics or maybe just dealing with repairs and your regular maintenance.
Lighting is a great option, and we love working with it since this allows pool owners to have a new outdoor living space they can enjoy.
Leave it to us and let our team work around your request, needs, and preferences.
Below is our list of additional services: