Pool Bubblers Installation Services for Palm Beach Gardens Residents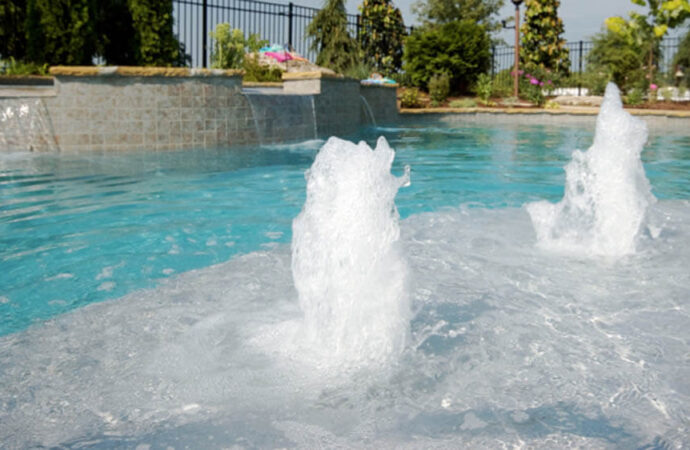 Owning a swimming pool is a great idea if you want a feature offering quality time and great experiences. However, you must learn that maintaining them and ensuring they are in good condition will take more time and effort than you thought. Additionally, adding new elements and features could be expensive. Water features are particularly costly, but at SoFlo Pool Decks and Pavers of Palm Beach Gardens, we can help you install pool bubblers so that you get one for less.
Unlike what most people think, these features create a visually appealing and dynamic environment, adding an extra touch of luxury and fun to your outdoor space. As long as they are properly installed and follow the design you want to obtain, you will enjoy your feature and the final result. Our team of skilled and dedicated contractors ensures that your pool will be transformed into a captivating aquatic paradise. Therefore, rely on us for the project; you will have a result beyond your expectations.
Pool bubblers are an excellent addition to any swimming pool, providing aesthetic and functional benefits. While you will have the usual stunning fountain or waterfall effect, you will improve water circulation. As a result, you won't have to worry about grime, algae, and sediment building up easily. Instead, you will need to clean or acid wash your pool every several months and years.
As long as you contact us first, we can take on the rest of the project for you. Hence, allow us to be there by calling or emailing our contractors.
Pool Bubblers & Why You Should Install Them
---
What are pool bubblers to begin with? This is the common question whenever a new client reaches out to have them installed. Put simply; pool bubblers are small water features that create a gentle, bubbling effect on the pool's surface. Unlike fountains or other massive water features, they are typically installed on tanning ledges, steps, or benches and can be customized to suit your pool's design and personal preferences.
Besides their aesthetical features, they come with multiple benefits that bring a functional element to the space. But to understand some of them, it is important to include aesthetics here:
Aesthetic appeal: the bubblers create a visually engaging water display, adding a touch of elegance and charm to your pool. Unlike other features, they can be customized with various colors, shapes, and sizes to match your pool's design and ambiance.

Relaxation: you will be able to sit and relax since the gentle, bubbling sound of pool bubblers can be soothing and relaxing. As a result, it will create a serene environment for you and your guests to enjoy.
Fun and entertainment: pool bubblers are an excellent way to add a playful element to your space, especially for children who enjoy splashing and playing in the water.

Improved circulation: your water circulation will be improved, leading to better conditions and safer pools. Additionally, you save time and money in how often cleaning and washing should take place.
How Are Pool Bubblers Installed?
---
The process for each company will be. Henceforth, you cannot expect the same process every time you ask for an estimate or question the company you are considering hiring. In case you want to work with us, we do have a specific settlement in how the project can be done. Therefore, you can expect our team to provide full support and have a clean pool bubbler installed in no time:
Consultation: we need to know the desired location for the bubblers and ensure that the final result aligns with your vision. Additionally, we need to know your pool's type, condition, and size so that we can plan the project accordingly.

Preparation: The contractors in charge of your project will prepare the installation site, making any necessary modifications to the pool's structure or plumbing system. Therefore, we need to know if you want any modifications or need us to add any elements before we start.

Installation: we will start installing the pool bubblers carefully and work with you on the different designs and effects that can be achieved.

Testing and adjustments: once the installation is complete, we will test the bubblers to ensure proper operation, making any necessary adjustments as needed. In case we need to make them, it won't take long.

Final touches: did we finish? Then, the installation site will be cleaned, and any finishing touches will be added to complete the project.
We Are Florida's Leading Company for Pool Bubblers Installation
---
When it comes to installing your pool bubblers, it is crucial to choose a company with a proven track record of success. Our company, SoFlo Pool Decks and Pavers of Palm Beach Gardens can take on any project. Hence, you can reach out and work with our contractors, who will go above and beyond, considering your best interests.
One factor that sets our Florida-based company apart is our dedication to customer satisfaction. From the initial consultation to the completion of the project, we prioritize clear communication and collaboration. This ensures that your pool bubblers installation is tailored to your specific needs and preferences and that any concerns are promptly addressed. As long as you contact us first, we will gladly offer our assistance and help in no time.
Furthermore, our professionals and all contractors are well-versed in the latest trends and technologies in installation. This expertise, coupled with quality materials and the right equipment, allows them to offer valuable advice and guidance on the best options for your particular pool design and desired aesthetic. Whether you're looking for a subtle, calming water feature or a more dramatic, attention-grabbing display, our team can help you achieve the perfect outdoor space.
To sum up, we can take on any project for you. In addition to the installation itself, we will include our support and assistance in designing and planning so that the final result is exactly what you expect or more. Therefore, take the first step of contacting us, and we will be there to ensure you get everything done in no time.
Below is our list of additional services: