Residential Pool Deck Resurfacing Services for Palm Beach Gardens Homes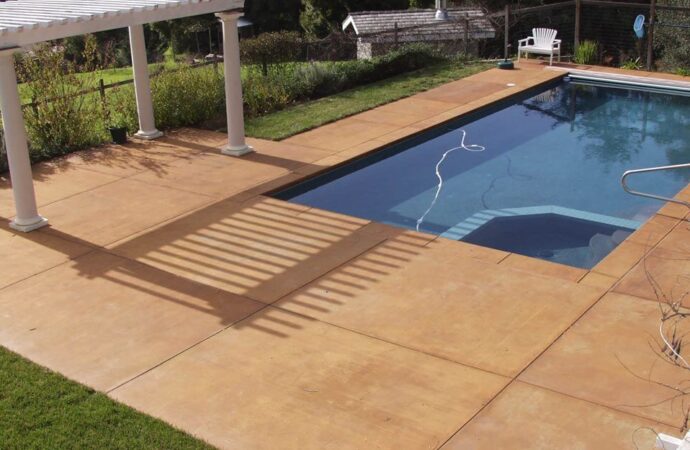 If you want to be able to work with the proper people for your pool projects, you will need to work hard to find those who focus on quality results and attention to detail. Our team has worked with multiple pool owners with residential pool deck resurfacing. As a result, you can contact us and expect a clean and neatly done project that can guarantee your property's beauty and functionality. All you have to do is work with us, and we will ensure you don't have to worry about repeating the project or worrying about any issues.
Our contractors will start with you from the very first step and ensure the project is properly planned. First, we need you to contact us and let our team know you require the service. Second, we will schedule an inspection for your pool deck, or you are welcome to have our team answer your questions remotely so that you have a good idea of how it will take place. Third, we provide the estimate and details for the pool deck resurfacing project. Finally, you get to decide whether to hire our contractors for the task.
We won't pressure you; unlike other professionals, we want you to feel comfortable with the whole process. Therefore, take your time, and before you move on, feel free to ask us anything and clear doubts with the whole team. We will be more than happy to support you and guarantee a clean result.
For us, it is very common to see Palm Beach Gardens homeowners being concerned about their pools and surrounding features or elements since we have been working with all residents for quite a few years. However, we have noticed that among all the services and details they could care about, residential pool deck resurfacing isn't usually at the top of the list or close to it, and it should be. This service can help you and any other homeowner to have a space that will be stunning and prevent or repair any damage to your pool deck. At SoFlo Pool Decks and Pavers of Palm Beach Gardens, we help you by guiding you in this process and offering the best services.
We promise to provide the best service possible and make sure you are satisfied with the end result. After all, the aesthetics of your pool deck is important to us, but we care about durability and longevity the most, so you get the most out of this investment. 
Before we go into details, let us explain why your pool is important and how resurfacing should be done immediately. We have information to help you understand the benefits and reasons for resurfacing, whether you are looking to remodel for aesthetical purposes or deal with some damage and repairs around the pool.
Yes, there's more than one reason to request this service. This is why you may want to know why this service is important so you can set a goal and work towards it. Most homeowners ask for pool deck resurfacing since it doesn't only fix cracks or repair damage to the area. Resurfacing will be required to cover your entire pool deck, and bring a new design if you just got tired of the current one.
Residents in the area have contacted us to resurface their decks. They were tired of the old designs and wanted something new, so we made sure to be there to deliver the new style and designs they wanted or didn't even know they would love as much as we made them love them.
While the pool is an essential part of any space, you should not ignore its surroundings. A deck is a great addition to any space and can make it more enjoyable. If you don't have a deck, you will struggle to manage your time in the pool area, and we just find it strange not to have one considering its purpose in your outdoor living space.
It's Time to Resurface Your Pool Deck
---
If you contact us for any service, we will notify you if there are any problems with your pool deck. If your pool deck needs to be resurfaced in this process, we will inform you and start working on a design and plan, or if you reach out to the team for this purpose and reason alone, we will be there to start based on your request.
We will inspect for cracks and damaged areas to determine if repairs are necessary. Your concrete might be wearing down and creating more problems. You might want to change the design, and the list of reasons just starts here. 
We can provide several options that will suit your needs. If you are willing to allow us to assess the space and help you decide what you should do to maximize your investment, we will be more than happy to handle the entire process and keep your best interests in mind all the time.
We can help you decide what repairs are possible and how to proceed. Our service will provide recommendations and guidance throughout the process. We can help you find affordable options and achieve the results you desire.
Once you request the service, don't assume we have finished our role. We will answer your questions and guide you through the process so that you are completely satisfied before, during, and after the task is complete.
We are here to assist you in making the right decisions and to support you through the planning and execution phases. We will always consider your best interests and do our best to ensure your satisfaction.
You Have Over 6 Options for Resurfacing
While most people think of concrete and pavers as the best options for surfacing, there are so many other options that you can choose from that you will get more value and pay less if you take the time to look at them and consider the pros and cons of each one. 
You have many choices for style and materials that you can use to create unique spaces. And, if you're looking for affordable options, you'll be amazed at what you can find.
Your wishes and our ability to work together will determine the design, and the size of your pool and deck will influence the cost of everything. There are many choices, so take your time to look at them all before you choose the one that's right for you.
The process of resurfacing a pool deck involves applying a concrete overlay to existing surfaces. This is the most common concept. It can be used to create a durable, long-lasting new surface. You can choose the design and type of your pool or deck based on the materials available, so this means you actually have more than just concrete for this project.
You can customize the overlay in many different ways. Each option we have available will include examples and photos so you can see what it will look like after the overlay has been applied with our professional assistance. 
You will receive examples according to the available space and available options so that you are able to get enough information and details about each.
SoFlo Pool Decks and Pavers of Palm Beach Gardens is here to help you, and we will be more than happy to assist you through the entire process. This includes working with you on designs, planning, and more. We are here as guides and want to make sure you have all the options on the table so you can make the best decision based on your needs and preferences, not by following the general standards and what others do.
Below is our list of additional services: