Pool Acid Wash Services for Palm Beach Gardens Residents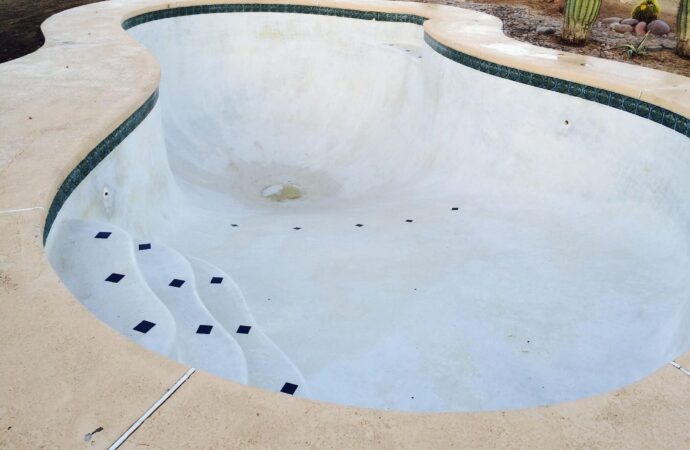 Handling all the grime, sediment, and algae in your pool can be exhausting. While proper maintenance can help alleviate the problem, it isn't enough in terms of how it builds up with time. Therefore, some services around removing all the dirt and waste will be needed unless you expect to spend more time and money later. At SoFlo Pool Decks and Pavers of Palm Beach Gardens, we can help you with pool acid wash so that your pool is in the best condition and you don't have to dive in with all your water looking green.
Unlike other companies and pool contractors in the area, we are not afraid of tackling this project. Instead, we encourage you to rely on our team and have a completely clean pool ready to be used at any time of the year. As long as you let us inspect the pool first, we will be able to provide a good mix of chemicals and work around how we can remove the whole grime, especially in your commercial pool, so that you can invite guests and have them enjoy the space all year round.
We have been working with small- or large-scale acid washing. In other words, you don't have to be afraid of contacting us to provide the support you need, as we can take on the basic cleaning or work with you in a pool that is full of grime to the point of not seeing the surface.
In case you decide to work with us, is it necessary to have a scheduled visit? As long as you give us details and information about your pool and its condition, it isn't. however, the inspection allows us to provide an accurate estimate and work better around the build-up.
What Is Pool Acid Wash & How Does It Help Your Pool?
---
Put simply, pool acid wash removes all the dirt, grime, and sediment from your pool surface with a mix of chemicals. The difference with your usual washing or cleaning is how the mix sticks to the surface. As a result, you can scrub and brush it away, along with all the dirt and algae in your pool.
Most contractors and cleaners use different mixes in their acid washing. However, all of them have mainly hydrochloric acid so that it sticks to the surface properly. Then it can be scrubbed and guaranteed to properly remove the grime and sediment. The rest of the chemicals used are often cleaners and specific disinfectants that will keep bacteria and mold away.
In our company, we have a specific mix that is also focused on keeping it eco-friendly. Additionally, we don't want substances to cause an allergic reaction during use. Hence, we keep an eye on the chemicals, and in case you have a specific request not to use something, we will comply with it.
To sum up, acid wash simply uses muriatic acid and chemicals to remove all the grime and sediment. Consequently, it will keep your pool clean and in good condition in terms of removing any bacteria and waste. However, acid washing can also damage your pool and the surface. This is why we always recommend working around it only when it is viable and not that required. For instance, you want to perform it when the mix needs less time to dry, and scrubbing won't be as needed.
Is Pool Acid Wash Expensive for a Pool?
---
Overall, it isn't. however, multiple factors influence the final price. Your pool's size and type, coupled with its condition, can increase or reduce the final estimate for the project. Hence, having our team inspect your pool and then provide the estimate is more viable.
In case you are interested, we can schedule a free visit and estimate. It is completely free, and you won't be forced or pressured into hiring us. After all, working with us needs to be decided on your own accord. You need to know that this inspection will benefit both sides greatly. You get to experience a more accurate estimate, while our contractors will know well what they are working with.
In general, pool acid wash will cost from $200 to $750. Depending on the different factors and other considerations, this can go higher or lower. In case you own a pool that isn't large and the grime and sediment haven't built up that much, you can expect the price to be as low as $200. From there, it will scale based on the sediment and the pool's size.
Considering that acid washing isn't a frequent service, you can consider it affordable and cheap. Additionally, our contractors will do their best so you don't have to constantly repeat it. As long as we provide a clean scrub and brush, future grime won't build as quickly, and you get to invest time and money in other services or projects properly.
To access our help, first, you need to call or email our team. You can use our contact form, too, for all the information and details you want to request. Then schedule the visit with us and get the pool acid wash done in no time.
Will Acid Washing Damage Your Pool?
---
As we mentioned before, it does affect your pool's surface, but if it isn't done frequently, it won't be a reason for frequent resurfacing. Therefore, this isn't something to worry about. Because of our worries about your pool and how we work with pool acid washing, you won't have to think about the mix of chemicals either. Instead, focus on how you can have your pool shiny and clean with us.
Our company is ready to take on any project and provide guidance and support in this service. As long as you take the first step, we will take the reigns in the rest so that you are worry-free and have all the algae removed quickly.
Below is our list of additional services: